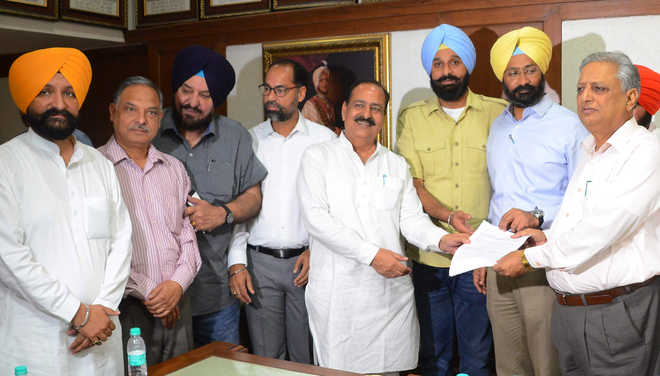 Tribune News Service
Chandigarh, September 11
The SAD and the BJP today asked Vidhan Sabha Speaker Rana KP Singh to disqualify seven Congress legislators for accepting an office of profit, besides disqualifying and debarring four MLAs, who had resigned from AAP and violated the Representation of Peoples Act.
A delegation, led by SAD legislative party leader Parminder Singh Dhindsa and Bikram Singh Majithia and Arun Narang, told the Speaker that "a grave constitutional crisis has arisen in Punjab".
The delegation said the appointments were in violation of the 91st amendment of the Constitution which stated that the total number of ministers should not exceed 15 per cent of the total strength of the House. The state exchequer had been burdened with the appointment at a time when 25 lakh students were not getting mid-day meal, SC scholarships were on hold, sugarcane dues were not paid to farmers, government employees were not getting DA and no money was released even for a pious occasion like 550th Gurpurb of Guru Nanak, they alleged.
The delegation said with the appointment of new advisers to the CM, the total number of political appointees in the government had risen to 27 with there being 13 advisers, four political secretaries, nine OSDs and one CPS. "We feel that if the CM feels the need to appoint advisers from legislators, he should reshuffle his Cabinet by dropping non-performers and induct these seven MLAs while keeping in view the 15 per cent ceiling limit," the delegation added.
As far as the issue of four AAP legislators, who had resigned from the primary membership of their parent party, is concerned, the SAD-BJP legislators said the MLAs had violated the Representation of Peoples Act. They said as per the tenth schedule of the Constitution "a member of a House belonging to any political party shall be disqualified if he voluntarily gives up his membership of such a political party".