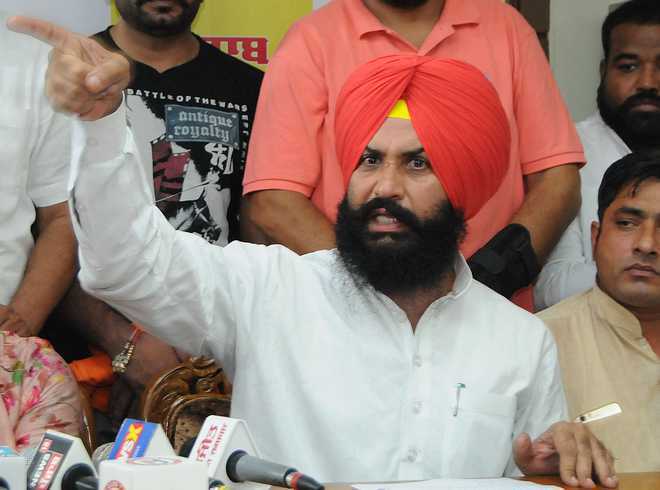 Ravi Dhaliwal
Tribune News Service
Gurdaspur, September 18
Gurdaspur District and Sessions Judge Ramesh Kumari's hard-hitting judgment while denying bail to Atam Nagar (Ludhiana) MLA Simarjit Singh Bains has become the talk of the town. The MLA's legal team had pointed out: "MLA Bains koi chhoti, motti cheez nahi hai (MLA Bains is no small fry)."
The MLA was on September 8 booked on a complaint by Batala SDM Balbir Raj Singh following an altercation with Gurdaspur DC Vipul Ujwal. The judge observed that "the applicant (Bains) is in the habit of intimidating, threatening and obstructing government officials and despite being booked time and again, has failed to mend his behaviour. Being an elected member of the state Assembly does not give him the licence to misbehave with a government servant." Even as the lawyers contended that the FIR was false, the judge brought on record details of 12 previous cases registered against the MLA. "The accused may have been falsely implicated in one case but his false implication in 12 cases, excluding the present one, cannot be believed," she observed.
The judge also noted that one of the FIRs was registered against Bains by Yash Pal, Assistant Passport Officer, Ludhiana office. "There are a total of nine criminal cases against Bains, including the present FIR, where along with other Sections of the IPC, Section 353 too has been invoked. This means the accused is in the habit of threatening government officials," she said.
"If a senior bureaucrat is treated shabbily by an elected representative, the bureaucrat will not be in a position to function independently," she observed, referring to the recent blasts in a firecracker unit in Batala. The judge also said Bains, being a people's representative, should not have met the DC accompanied by a mob.