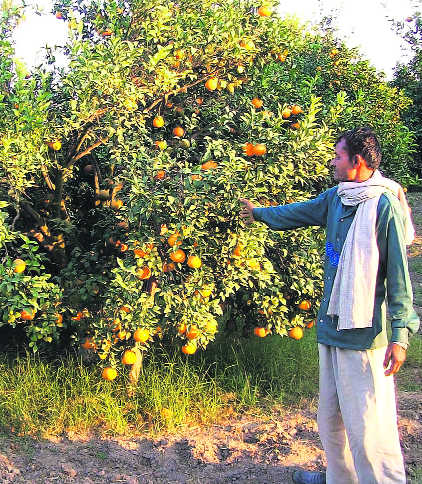 Nitin Jain
Tribune News Service
Chandigarh, November 25
Punjab's crop diversification programme has come pretty close to producing spectacular results — the agrarian state is leading from the front in the country in horticulture.
Breaking away from the vicious paddy-wheat cycle has yielded 74 per cent increase in production, 48 per cent increase in area and 18 per cent more productivity of horticultural crops for the food bowl of the country.
Occupying only 1.53 per cent of the total geographical area of the country, Punjab accounts for about 25 per cent of India's total cropped area under horticulture.
Of the 241.98 lakh hectares (12.39 per cent of total cropped area) of horticulture cropped area in the country, Punjab accounts for 3.11 lakh hectares (3.95 per cent) under horticulture.
The switch has helped save almost 30 per cent groundwater as horticultural crops consume much less water than the wheat-paddy rotation.
Additional Chief Secretary (Agriculture) Suresh Kumar told The Tribune that production of horticulture crops has gone up from 33.84 lakh metric tonnes (MT) in 2004-05 to 59 lakh MT in 2014-15.
This has pushed horticultural productivity from 16 lakh MT per hectare to 18.97 lakh MT per hectare in the last decade.
The area under horticultural crops increased from 2.1 lakh hectares in 2004-05 to 3.11 lakh hectares in 2014-15.
Horticulture's 10-year-long success story has also led to an increase in GDP share of horticultural produce to agricultural produce from 6.44 per cent in 2004-05 to 10.15 per cent in 2014-15.
While the total area under horticultural crops went up from 2.1 lakh hectares in 2004-05 to 3.11 lakh hectares in 2014-15, the percentage of horticultural area to total cropped area increased from 2.78 to 3.95 in the last 10 years.
With this upswing, the horticultural wealth of the state reached Rs 7,896.34 crore by registering a production of 59.1 lakh MT at the rate of Rs 13.36 per kg in 2014-15 whereas 52.22 lakh MT horticulture production at the rate of Rs 11.96 per kg had yielded Rs 6,246.5 crore in 2011-12.
But despite all this, there are certain issues which emerged in the promotion of horticulture. Besides adverse effects on natural resources, shrinking cultivable land, fall in profitability, growing indebtedness and suicides, change in social values (decline in work culture, over-expenditure on farm mechanisation and social ceremonies), slowdown in productivity growth and climate variability (global farming or natural calamities) are among the issues Punjab is facing.
Top News