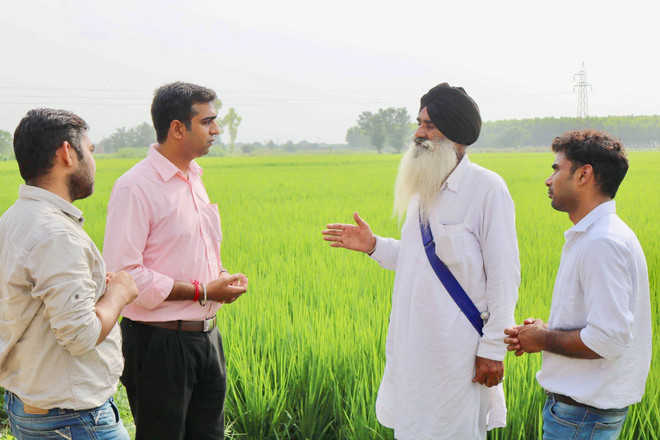 Divya Sharma
Tribune News Service
Amritsar, October 14
A group of students of the Indian Institute of Management-Amritsar (IIM-A) has suggested ways to farmers to utilise paddy straw and earn money instead of burning it.
The study dwells upon the alternative ways to utilise the paddy waste. The study was carried out for a period of three months from July to September.
Students Sawan Khapne, Shivam Rana, and Shailendra Singh visited the Khot Khalsa area here and interacted with farmers to understand their problems and the reasons for burning stubble. The farmers acknowledged that despite government efforts, burning still remained an easy option to dispose of straw.
The study proposed mushroom cultivation and gasification process for using paddy straw in producing biochar to be converted into biofuel, besides management of residue in fields by growing crops with leftover stubble. It also suggested use of straw in making bio-concrete for the construction of buildings.
For effective implementation of these alternatives, the students focused on 31 villages of Verka, near Amritsar, and divided these into four clusters for an easy distribution of equipment and collection of paddy waste.
"The supply chain management is basically a journey of procuring a thing till it reaches its destination. I have interacted with many farmers. The aim is to develop a pattern that can be followed as paddy is harvested," said Dr Neeraj Bhanot, assistant professor, who supervised the study.
The straw can be procured from farmers by companies or NGOs termed as service providers. These service providers can take help of labourers engaged by government bodies or cooperative societies. The straw needs to be transported to processing units or markets. The chain begins with farmers selling straw to the service provider. These service providers shall procure straw directly from fields or from traders.
"We have not only designed this chain, but have also proposed the alternative uses. The chain shall also help farmers make money by selling straw," said Sawan Khapne, a student.
Proposed steps
The study proposed mushroom cultivation and gasification process for using paddy straw in producing biochar to be converted into biofuel
Management of residue in fields by growing crops with leftover stubble
It also suggested use of straw in making bio-concrete for the construction of buildings