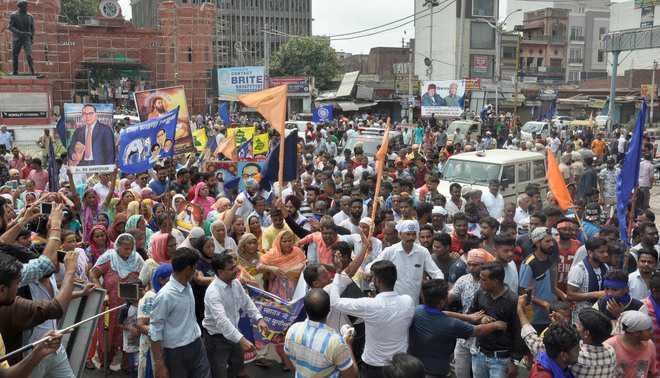 Tribune News Service
New Delhi, August 19
Taking strong exception to protests against its recent order to demolish an old Guru Ravidas Temple built on forest land in Delhi, the Supreme Court on Monday directed governments of Punjab, Haryana and Delhi to ensure that no law and order problems were created over the issue.
The order came from a Bench headed by Justice Arun Mishra after Attorney General KK Venugopal said the governments of Punjab, Haryana and Delhi should be asked to ensure that no law and order situation was created "politically or otherwise".
"Everything cannot be political. Our orders can't be given a political colour by anybody on the Earth," said a Bench headed by Justice Arun Mishra posting the matter for further hearing after three weeks.
After the demolition of the temple on August 10, protests have been held at various places in Punjab, Haryana and Delhi by political parties and Dalit community members.
Punjab Chief Minister Amarinder Singh and Shiromani Akali Dal (SAD) chief Sukhbir Singh Badal had said they would meet Prime Minister Narendra Modi for his intervention in the matter. SAD wanted the government to provide a piece of land for rebuilding the temple. Certain AAP leaders too had sought Modi's intervention to restore the historic temple to its pristine glory.
"What do you think? This is a Supreme Court order…You can't organise protests like this…You can't politicise our orders," the Bench had said on April 13 while warning that it would initiate contempt proceedings against those involved. It had also sought the Attorney General's assistance on the issue.
On Monday, Venugopal told the Bench that the though temple's demolition was carried out by DDA on the top court's order, 18 organisations were organising protests against it and it was difficult to pinpoint a particular person behind these protests.
The Bench said if the issue remains it will take up the matter for hearing.
The top court had on April 2 ordered that the premises build on forest land had to be vacated and peaceful possession handed over to the DDA. However, it was not done and on August 2, a false statement was allegedly made on behalf of office bearers of Guru Ravidas Jayanti Samaroh Samiti that the premises had been vacated.
After being told about it, the top court on August 9 directed the DDA to remove the structure by August 10 and asked the Commissioner of Delhi Police to provide protection for the purpose. The Chief Secretary of Delhi was also directed to ensure compliance of its order. It had also sought personal presence of officer bearers of the Samiti and contempt notices be issued to them, if the order was not complied with.