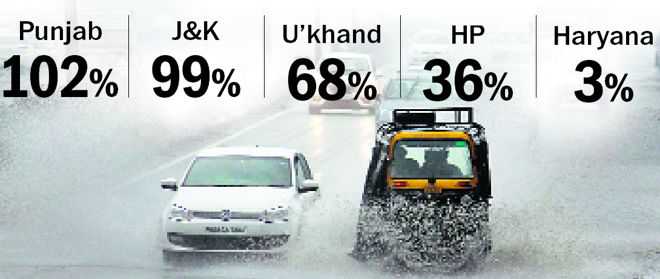 Vijay Mohan
Tribune News Service
Chandigarh, February 10
The overall rainfall in Punjab so far this year has been double the normal received at this time of the year. While rain in some areas of eastern Punjab was as high as three times the normal, a few south-western areas continue to be deficient.
The rainfall recorded in Punjab from January 1 to February 10 was 64.2 mm compared to the normal of 31.7 mm, according to data compiled by the India Meteorological Department (IMD). This is a departure of 102 per cent from the long period average.
The departure from normal is the highest in Punjab among other states in the region. While the surplus was 99 per cent in Jammu and Kashmir, Uttarakhand and Himachal Pradesh were surplus by 68 per cent and 36 per cent. Haryana hovered near the long period average, with the surplus being just 3 per cent.
The region had experienced widespread rain, and at places hail, in the last week of January as well as the first week of February. Though it augured well for the ground water levels and kept temperatures low, it damaged crops in some parts. The water storage in major dams in the region also remains well above normal.
The state's eastern belt adjoining HP was the wettest, with Hoshiarpur district being surplus by 294 per cent, followed by Kapurthala with 244 per cent. Rainfall in Gurdaspur and Rupnagar districts, which also share a part of their border with HP, was excess by 195 and 158 per cent.
In central Punjab, Ludhiana and Jalandhar were districts that were wetter than others, with the surplus being 172 and 136 per cent.
Top Stories