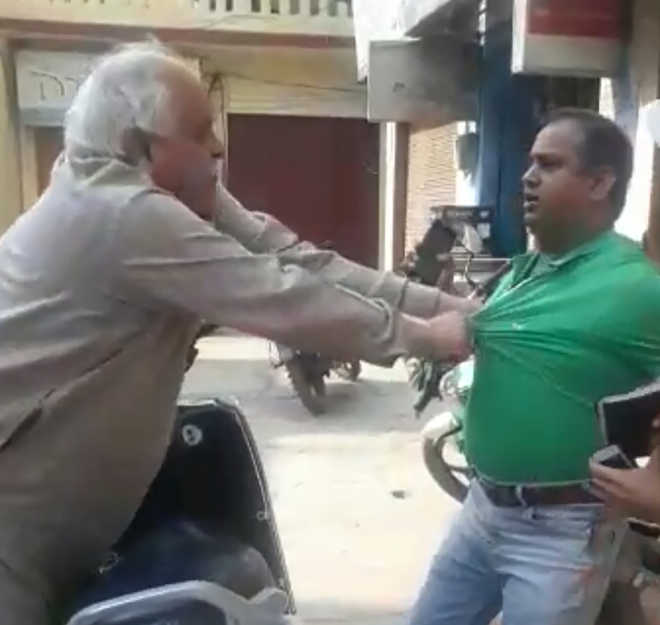 Tribune News Service
Jalandhar, October 29
Former Mayor Suresh Sehgal thrashed a building inspector of the Municipal Corporation on Sunday evening.
Building inspector Dinesh Joshi and draftsman Sanjiv Kumar had reached Shivrajgarh colony, where illegal construction was reportedly being done in a house. The house owner called up Sehgal, who reached the spot and beat up the inspector.
Joshi tried to call up senior officials and seek police help, but Sehgal, also a former wrestler, snatched his mobile phone and threw it on the ground. He also verbally abused the MC official. Two videos of the incident went viral on Monday.
The house owner, Sulakshan Sharma, also allegedly assaulted Joshi. The keys of the official's bike, his diary and official documents fell in the melee. Sharma took possession of the items. He accused Joshi of asking Rs 10,000 as bribe, but the MC officials denied the charge.
On the complaint of Joshi, who suffered bruises on the arm, back of the head and the neck, an FIR was registered against Sehgal and Sharma under Sections 353 (assault or use of criminal force to deter public servant from discharge of his duty), 186 (obstructing public servant), 332 (causing hurt), 149 (unlawful assembly) and 506 (criminal intimidation) of the IPC.
The MC officials met Mayor Jagdish Raja and Commissioner Diprava Lakra on Monday evening and told them that they would not resume work till the accused were arrested.
Joshi said, "The house owner had been issued several notices regarding illegal construction. He had not got a building plan approved. He had encroached upon a 5-ft-wide public lane at the rear of his 4-marla house. I had gone to the spot as my seniors told me that he was getting construction done in the evening (or at night) or during the weekend so as to dodge MC officials."
Sehgal represented the BJP when he was the Mayor from 1997 to 2002. He then switched over to the Congress and later to the SAD. He has again started supporting the Congress. The current Mayor, who represents the Congress, visited Sehgal's house to extend support. Local MLAs of the ruling party also sprung to his defence.
Sehgal said, "Yes, I have abused the officer and pushed him, but it was all because of his wrongdoings. He had sought bribe from a resident who was just repairing his house after it developed cracks. The police have lodged a one-sided FIR."