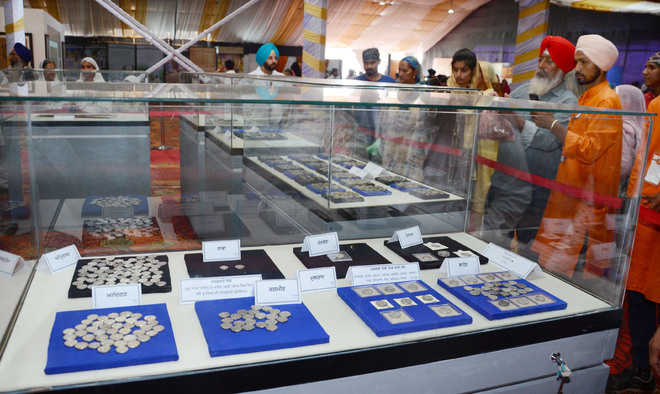 Aparna Banerji
Tribune News Service
Sultanpur Lodhi, November 8
Bricks from the house of Bebe Nanki, arrows from the era of Guru Gobind Singh, rare handwritten 'sakhis' and coins released to commemorate Guru Nanak's birth anniversary, along with a host of pictures elaborating on his life, travels and ideology have been exhibited at 'Nanak Chitar Pradarshani' right at the main pandal in Sultanpur Lodhi.
While various exhibitions have been set up discussing the Sikh legacy and the life of Guru Nanak at Sultanpur Lodhi, the pradarshani is the most expansive of the lot with a special section in the back having photographs of various gurdwaras across India and world.
The main sections of the exhibition feature huge boards bearing photographs accompanied by verses from the Guru Granth Sahib which provide a detailed walk-through on the life and lessons of the Guru. There is a special section featuring a huge map of his travels across the globe.
Gurdev Kaur, who came from Dasuya along with her family, said, "The exhibition is a revelation and has been created with beautiful visual illustrations. It's a nice experience which is also a new thing for our kids, who thoroughly enjoyed it."
A glass exhibit features rare scripture copies, coins, bricks, old Punjab utensils and vanity boxes. Another exhibition featuring arms and dated swords atGurdwara Ber Sahib is also drawing crowds.
Top Stories