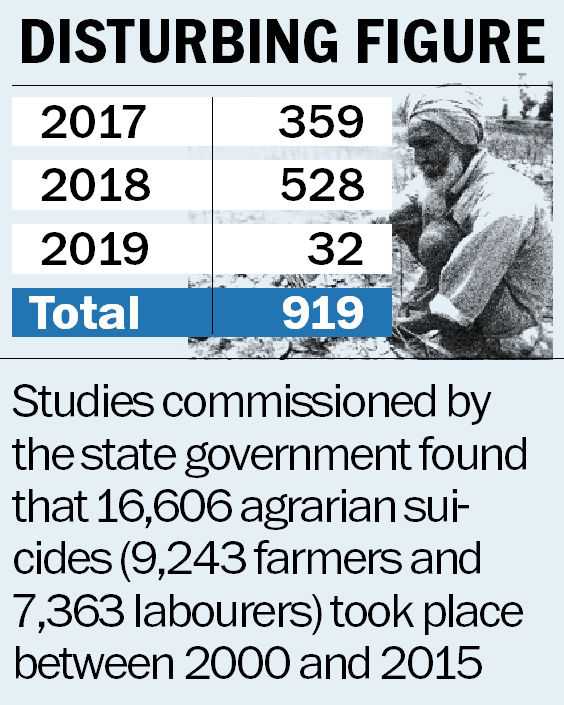 Vishav Bharti
Tribune News Service
Chandigarh, February 11
More than 900 farmers and agricultural labourers have taken their lives during the past two years in Punjab.
Compiled by Bharti Kisan Union (Ugrahan), the number is based on news clippings related to suicides appearing in five Punjabi newspapers (Punjabi Tribune, Jagbani, Ajit, Sach Kahoon and Spokesman) after the Congress government took over in 2017.
The newspapers reported that 919 farmers and agricultural labourers committed suicide between April 1, 2017, and January 31, 2019.
While 359 suicides were reported within the first nine months of formation of the government, the figure last year was 528. This year, in January alone, 32 suicides were reported.
Sukhpal Manak, press secretary of Sunam block of the union, who prepared the list, says the actual number may be higher as they have not included the suicides reported in local news channels, Hindi and English newspapers and web portals.
"There is no doubt that agrarian suicide is a continuous phenomenon despite the change in government," says economist Prof Sucha Singh Gill. However, he feels a scientific study is needed to know the actual number.
"Agrarian suicide is both an economic as well as a social phenomenon. Majority of the small and marginal farmers are victims of the agrarian crisis. The temporary solution lies either in creating employment out of agriculture sector or increasing the income of farmers. Both the measures at the part of the government are missing." Prof Sukhpal, senior economist, PAU, Ludhiana, who headed the team which studied farm suicides between 2000 and 2015, says the terms of trade need to be made favourable for agriculture. "At present, neither are the prices of input regulated, nor does the farmer get viable price for the produce."
Sukhdev Singh Kokri, general secretary of BKU (Ugrahan), says the government has gone back on its promises made before the elections. "It is silent on the debt of farmers owed to private moneylenders. Even the debt waiver is partial and the lists are being prepared by local Congress leaders. That is why names of a large number of rich farmers and politicians have figured in beneficiary lists."
Significantly, the state government had taken various initiatives, including a debt waiver of Rs 3,600 crore, for crisis-ridden farmers of the state. The state aims to waive off a total of Rs 7,000 crore during its five-year term.
Agriculture Secretary KS Pannu said the government has formed district-level panels under the chairmanship of DCs, which have been mandated to study each debt-related suicide. "The panel studies the cause of suicide in each case and if debt is the reason, they recommend the case for compensation as per the government compensation policy."
Top News
As the voting progresses, both SP and BJP hurl allegations a...
The Delhi govt opposes the Centre's plea saying it will only...
This comes as a major embarrassment to CM Bhagwant Mann who ...
Pawanpreet Kaur was gunned down with 'multiple shots' and di...