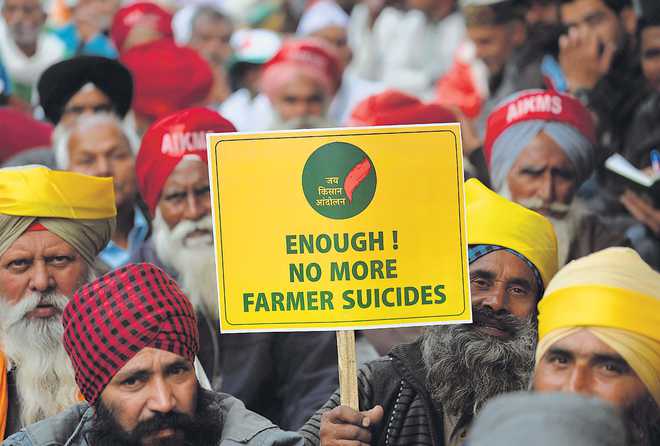 Amarjit Thind
Tribune News Service
Chandigarh, November 22
The travails of the farming community so far viewed with indifference by the urbanities are now at the centre stage since it is being widely felt that something is amiss in the demand and supply food chain.
This was evident in the wide coverage of the All India Kisan Sangharsh Coordination Committee (AIKSCC) at its two-day Kisan Mukti Sansad, which concluded in Delhi yesterday. It was the first time that the protesters highlighted only two demands — implementation of the Swaminathan Committee report and a complete debt waiver.
The social media was abuzz with the problems being faced by the peasantry and the active role played by young volunteers who took to modern information tools like Facebook and Twitter to plead the cause of the farmers.
The presence of youngsters and women even surprised the organisers of over 184 organisations from across the country. So far, such protests were largely viewed as periodic shows of resentment against the unfair farm policies and were largely ignored by the urban population.
This time, the huge participation of women, who head over 20 per cent of the rural farm holdings, was an eye opener. So was the case of youngsters who virtually covered all aspects of the protest, unheard of in the past. The traditional banners and slogans of yore had given way to slick posters highlighting the plight of the farming community.
As Jagmohan Singh of the BKU (Dakonda), who participated in the event, said: "Times have changed. The younger lot realise that they have to harness all means to get their message across to the government and the people."
The farmers now want to take on the government at all levels, be it new media, policy debates, recourse to judicial activism and street mobilisation, he added.
The protest has shown that ground mobilisation across the country was logistically and ideologically possible. The first-ever women's parliament yesterday was an acknowledgement of the role of women farmers.
The gathering also noted that despite thousands of farmers, including hundreds of farm suicide affected widows, marching to Delhi neither the PM nor any of his colleagues cared to listen to the plight of the farmers.
It was resolved to hold a Kisan Mukti Diwas on January 26 across the country.
---
Under debt, 40-year-old takes poison
Faridkot: A 40-year-old farmer of Hariaewala village in the district allegedly ended his life by consuming pesticide here on Wednesday. Gurmit Singh, who owed three acres, had taken loan from banks and private moneylenders. He had taken some agriculture land on lease some time ago, but for the low return from this land and high lease rate, he was unable to cope with his mounting debts. He is survived by two children and wife. TNS