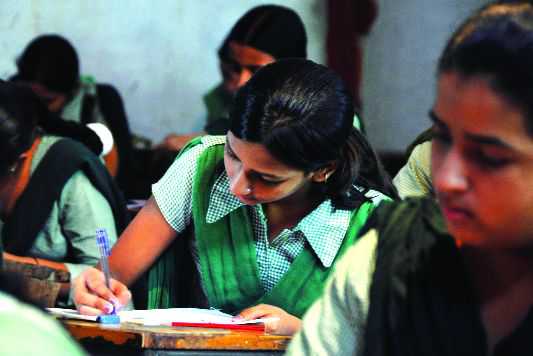 Sanjeev Singh Bariana
Tribune News Service
Chandigarh, October 12
Government High School (RMSA), Hira Wali, in Fazilka is not just another school. All its students scored impressive grades in matriculation, the school's science model was adjudged third at a state-level contest and it topped the district in the Swachh Bharat campaign and the state in Parho Punjab drive.
The school, that has creditable infrastructure, religiously adheres to its calendar on co-curricular activities, points out principal Dr Navjeet Kaur Sran with pride. She has every reason to feel so. With 83.5 per cent marks, her school has been ranked number one among the 1,740 government high schools evaluated by the Education Department.
Government Senior Secondary School, Dabwali Rahurian, in Muktsar with 82.6 per cent marks has been adjudged the best among the 1,886 senior secondary government schools in Punjab for over-all performance. Humbled, its principal Hansraj Chauhan credits the school staff as well as the village residents for the success.
"All our Plus Two students scored more than 60 per cent marks. We faced staff shortage earlier but that problem has now been addressed. We have a good library and science lab. The school lawns and playgrounds are well-maintained. The school building is given a fresh coat of paint regularly," he says. No special incentives have been announced for the two winning schools. "The department will submit the report to Education Minister OP Soni and then take a call in the matter," Deputy State Project Director Manoj Kumar told The Tribune.
The department is in the process of compiling the grading list for the state's primary and middle schools. The data on all schools is expected to help the government in policy-making.
---
TOP 5 SENIOR HIGH SCHOOLS
GSSS, Dabwali Rahurian, Muktsar 82.85%
GSSS for Girls, Maluka, Bathinda 82.60 %
GSSS, Kishangarh, Mansa 81.75%
GSSS, Pakhi Kala, Faridkot 81.45%
GSSS, Kanakwal, Sangrur 80.25%
Overall pass percentage for +2 this year was 66.83
CRITERIA FOR ASSESSMENT
Schools were told to provide data on specified parameters
Data was verified by teams
Special marks were allotted for good results even when there were no subject teachers
Preference given to plantation on campus, schools holding morning assembly & with bins
Extra-curricular activities such as social work and magazine carried special marks
Weightage for maps, state of libraries & labs, power supply
Top News
In his first major foreign policy speech since taking charge...
Actor Anupam Kher condemns Nadav Lapid's controversial remar...
Gilon also pulls up Indian social media users doubting the h...
The troops fire at the drone at 11.05pm on Monday after they...