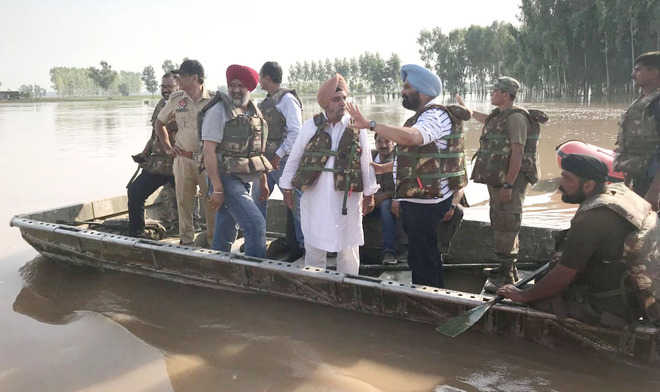 Tribune News Service
Chandigarh, August 24
In the wake of flood fury in various districts of Doaba and Malwa, five Punjab ministers as well as the Vidhan Sabha Speaker visited the affected areas on Saturday, said a government spokesman.
Rural Development and Panchayat Minister Tript Rajinder Singh Bajwa, Health Minister Balbir Singh Sidhu, Water Resources Minister Sukhbinder Singh Sarkaria, Revenue Minister Gurpreet Singh Kangar, Food and Civil Supplies Minister Bharat Bhushan Ashu as well as Speaker Rana KP Singh spent the entire day overseeing the relief operations.
Tript Bajwa reviewed the work at Jania village under the Lohian sub-division along with Powercom chairman Baldev Singh Sran and assessed the process of evacuation of the stranded villagers.
Sidhu visited medical camps at various places in Kapurthala and Jalandhar, including the worst-affected Lohian area. He directed provision of proper medical supplies in camps and ensured deployment of ambulances.
Sarkaria visited Meowal village where the district administration has been carrying out massive plugging operations on 350-ft breach and expressed satisfaction over the operations.
Visiting Jalandhar and Kapurthala districts, Kangar assessed the steps being taken for relief and rescue work. Comprehending the gravity of the situation in the flood-hit areas of Jalandhar, the Minister has decided to camp in the district for the time being.
Ashu took stock of ration distribution and drinking water to locals and fooder for cattle in the flooded areas.
The Roopnagar area was visited by Rana KP Singh, who directed the authorities to leave no stone unturned to bail out the people.