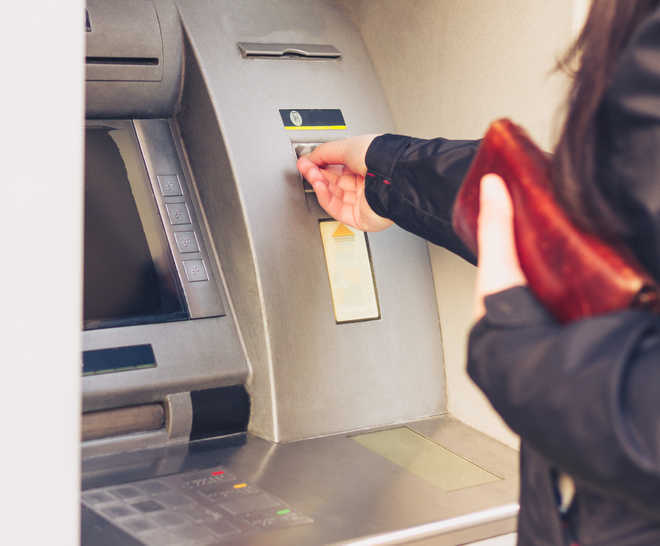 Aman Sood
Tribune News Service
Patiala, March 22
The Patiala police have arrested a gang that siphoned off cash from ATMs and later conducted more thefts to pass off the losses as stolen money.
The gang was part of a private company deputed to load cash into ATMs.
SSP Mandeep Singh Sidhu said that on March 17 information was received that the SBI ATM near Samania Gate had been broken open and an FIR was lodged at Kotwali police station. He, along with a police team, visited the ATM site. A SIT comprising Harman Hans, SP City; Harmeet Singh Hundal, SP Investigation; Yogesh Kumar, DSP City 1; and Inspector Shaminder Singh was formed.
A tip-off was received that the cash loader/custodian of the CMS Info System was behind the theft. Police called senior officials of the CMS company and FSS company whose ATM was broken to discuss the details.
Police teams under SIT were sent to arrest the cash loading team/custodians and Rajinder Singh, Balwinder Singh, Dharampal, Deepak Rai and Deepak Tiwari were arrested; Rs 5.16 lakh was recovered from them along with tools used to cut the ATM.
"On interrogation, Rajinder, the mastermind behind the theft, said they had been working with CMS Info System for years and were aware of the working of ATMs. They have been siphoning off money from ATMs from 2014. During demonetisation in November 2016, they had to deposit around Rs 18 lakh siphoned off from various ATMs, which they did with the help of their friends," the SSP said.
In mid-2017 they again started siphoning off money from ATMs in which they would load currency.
"Deepak Tiwari was shunted out of the company in 2017 but he was still in touch with Rajinder and his team. The PNB was in the process of closing some ATMs and directions were given to the team to withdraw the cash from these ATMs and deposit the same in the currency chest. As they were aware that in all ATMs the currency was less than the actual amount they conspired to commit a fake theft from the SBI ATM at Samania Gate as this ATM used to hold the maximum cash," the SSP said.
Top News
No militant group has claimed responsibility for the attack
AIADMK leads demand for passage of Women's Reservation Bill ...
Said while rapists and murderers were being released under r...
The bench takes note of the submissions by lawyer ML Sharma ...
The Adani Group had released a 413-page response to allegati...