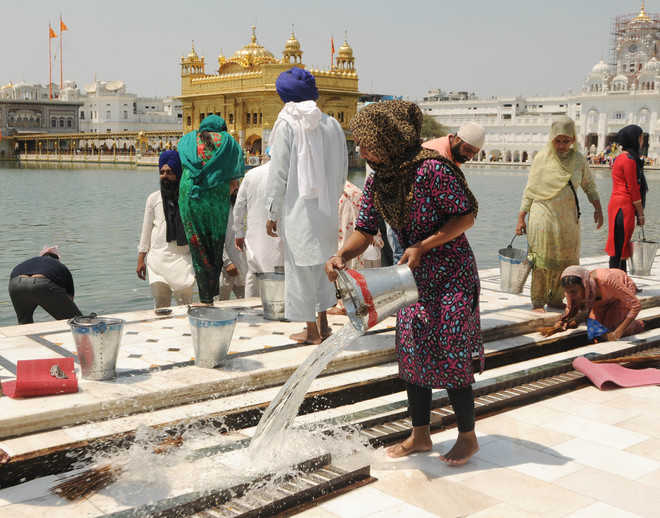 GS Paul
Tribune News Service
Amritsar, June 10
In a first, a water recycling plant has been proposed to set up on the Golden Temple premises by the Ministry of Water Resources.
During the recent visit of Minister of State for Water Resources and River Development Arjun Ram Meghwal to the Golden Temple, it was observed that gallons of treated water is drawn from the sarovar (pond of nectar) to clean the area around the sanctum sanctorum structure and the parikrama (circumambulatory path) of the shrine. Eventually, this water is being wasted without any supplementary use.
On the SGPC's request, Meghwal directed the Central Ground Water Board to devise a mechanism to reuse this water.
At present, the SGPC staffers and volunteers draw water from the sarovar twice a day to clean the causeway or bridge that leads to the sanctum sanctorum, which is 202 ft in length and 21 ft in width. The same procedure is adopted to clean the 13-foot-wide parikrama that runs around the shrine. This water is drained down in the channels, meant for draining out the rainwater or any waste water from the premises.
SGPC Additional Secretary Diljit Singh Bedi said a letter had been sent to the minister, urging him to get the plant installed as soon as possible. "The waste water generated after washing of floors is disposed of into a drain, which is diverted to recharge wells set up near the langar hall to maintain the groundwater level. This drain can be linked to the new recycling plant," he said.
Once, the plant is set up, the recycled water can be used for other needs such as washing utensils, watering the green belt, washing vehicles owned by the SGPC and other things.
Top News
Johnson, 58, will remain in charge at 10 Downing Street unti...
At a one-hour meeting in Bali, Jaishankar and Wang look forw...
Raghav Chadha and Arvind Kejriwal in attendance
'Chhote da number vadde ton baad hi aunda hai', says Chadha,...
The case dates back to 2015