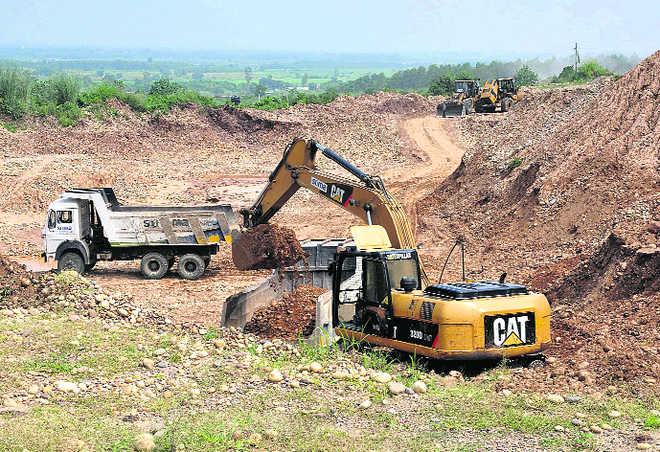 Ruchika M Khanna
Tribune News Service
Chandigarh, November 25
Reverse bidding policy for the auction of minor minerals (sand and aggregate) quarries in Punjab will be followed as the government prepares to auction 83 quarries beginning next week.
With the Akali-BJP government constantly under fire over the high rates of sand and gravel caused by the alleged collusion of politicians and the sand mafia, the government has decided to follow reverse bidding to auction new mines that have received all necessary environmental clearances from the Union Ministry of Environment and Forests. Around 33 of these quarries are to be auctioned between November 30 and December 2.
Industry Minister Madan Mohan Mittal, while conforming that the online auction of the quarries was to be done now said the bidders would compete to obtain business from the state and prices would typically decrease as the sellers undercut each other.
"We are committed to bring down the price of sand and gravel to Rs600-Rs650 per hundred cubic feet so as to facilitate the common man. Thus we will follow reverse bidding as the auction for the new quarries comes up," he said. The daily demand of sand in the state is estimated at 58,000 tonne approximately. The new mines are expected to supply about 90 lakh tonnes of sand per annum.
As of now, the retail price of sand to a consumer in the state is Rs2,000-Rs2,700 per 100 cubic feet and that of aggregate (sand and gravel mix) is Rs2,200-Rs3,100 per 100 cubic feet. With the government facing public ire over the high prices of this basic construction material and attributing it to the nexus between ruling party leaders and the mining contractors, the issue has had widespread political ramifications, with public anger on this issue resulting in voter disillusionment for the ruling Akali-BJP combine in the Lok Sabha elections last year. With the state Assembly elections round the corner, the government now seems to be on correction course.
Other than the 33 quarries that are to be auctioned next week, the government has also decided to allow the Irrigation Department to mine sand midstream from riverbeds of the Sutlej and Beas by dredging at over 45 places, as the midstream level of the riverbed has become higher. With the minor minerals from the sides of the rivers being extracted for mining, there are reports of flooding from these rivers at various places. The Mining Department will now issue disposal permits to the Irrigation Department during dredging of canals and rivers, so that the minerals in midstream river beds can be removed and riverbeds levelled.
Mittal said the term of auction for another 50 quarries would end in January and they were hopeful of bringing down the bid prices, which in turn would bring down the sand and gravel prices.
Top Stories