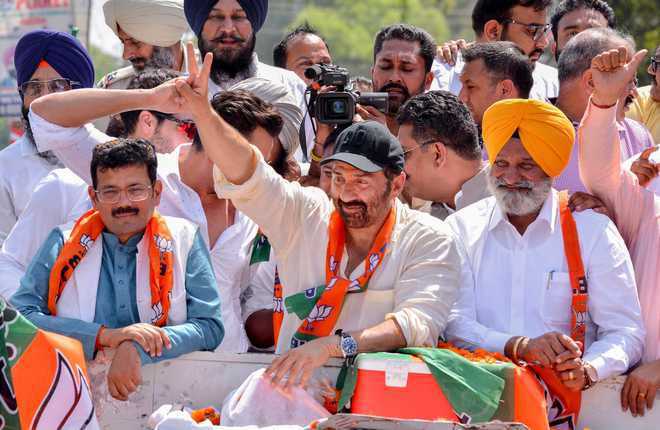 Ravi Dhaliwal
Tribune News Service
Gurdaspur, June 19
Film actor and Gurdaspur MP Sunny Deol has been asked to explain his poll expenditure during the recent Lok Sabha elections after it was found to have crossed the statutory limit of Rs 70 lakh, an official said on Wednesday.
The Gurdaspur Deputy Commissioner cum Returning Officer (DC cum RO) Vipul Ujwal has asked Deol to explain the excess expenditure incurred by him in the run up to the elections.
The notice was issued after discrepancies in the MP's accounts were found by the two expenditure observers — Aditya Bajpai and Rajesh Dhanishta.
At present, both these officials are camping in Gurdaspur.
The constituency had two observers because it comprises of two revenue districts — Pathankot and Gurdaspur.
Pathankot has three assembly seats — Bhoa, Pathankot city and Sujanpur while Gurdaspur has five segments.
These are Gurdaspur town, Qadian, Dera Baba Nanak, Fatehgarh Churian and Batala.
The MP is said to have spent more than Rs 80 lakh on his campaign while the Election Commission of India (ECI) has fixed the official limit at Rs 70 lakh.
"It is not only Deol who is being questioned. This is a pan-India exercise and every candidate who has overshot his limit is being asked to explain," said Ujwal.
Pathankot Mayor Anil Vasudeva, who was closely related to the MP's campaign and had even prepared his nomination papers, confirmed the development.
"Yes, we have received the notice and our team will be filing its reply soon. We have all the records and will try and match them with those of the observers," he said.
An official revealed that the details of the expenditure were monitored from the day a candidate files his nomination papers till the day of the counting.
"This also includes the money spent during the winning procession, if any, taken out by the candidate. An FIR can be lodged against the erring candidate if he does not come up with a plausible explanation which is suitable to the DC cum RO and the observers," he maintained.
In the run up to the polls, not even a single report of candidates distributing freebies, gifts, cash or liquor had surfaced.
During the elections, the ECI had ordered that Rs 1.74 lakh be added to Deol's election expenditure after it was found that his team was running an undisclosed Facebook account named "Fans of Sunny Deol".
A notice was issued to him but he failed to reply.
According to ECI rules, candidates and their election agents could use only a specific bank account and could withdraw not more that Rs 10,000 in cash at one time.
For payments above Rs 10,000, they needed to opt for cheques, demand drafts, RTGS and other banking alternatives. The details of these bank accounts had to be furnished in the nomination papers.