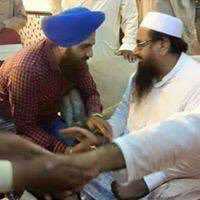 Lahore, April 17
Photographic evidence has emerged that Pakistan based terror-outfits Jaish-e-Mohammad (JeM) and Jamaat-ud-Dawah (JuD) are backing Sikh militants as LeT's chief Hafiz Saeed is seen with Sikh militant leader Gopal Singh Chawla in Lahore.
Chawla, under instructions from the Pakistani authorities, recently stopped Indian officials from entering Gurdwara Panja Sahib on April 14 (Baisakhi day).
Earlier on April 12, the officials were also stopped from meeting the Sikh pilgrims when they reached Wagah–the first station when a train crosses over to Pakistan.
The embassy officials went to meet the Indian pilgrims as a standard practice to help them out with consular duties and emergencies.
A group of around 1,800 Indian pilgrims reached Pakistan to visit the shrines on the occasion of Baisakhi, which marks the 320th birth anniversary of the Khalsa.
The visit of pilgrims takes place under a bilateral agreement on facilitating religious visits.
To run Pakistan's anti-India propaganda, Sikh militants also placed posters of Sikh Referendum 2020 in the parikarma of Gurdwara Panja Sahib.
Indian High Commissioner Ajay Bisaria, who was to greet the pilgrims on Baisakhi, was also "compelled" to return for unspecified security reasons while on his way to Gurdwara Panja Sahib.
The Ministry of External Affairs (MEA), in a statement described it, as an "inexplicable diplomatic discourtesy" in violation of the Vienna Convention.
This also violated the 1992 bilateral protocol on the treatment of each other's diplomats, which the two countries "reaffirmed" recently, said the statement.
The terror outfits in Pakistan work under the patronage of the country's intelligence agencies, including the Inter-Services Intelligence (ISI), to malign India's image.
They use these outfits to wage a proxy war against India and create troubles within the country. ANI