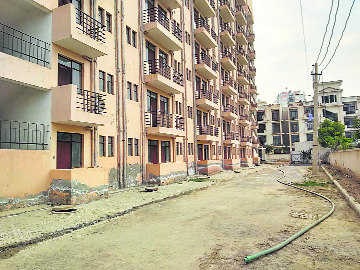 Sukhmeet Bhasin
Tribune News Service
Bathinda, September 11
The Local Bodies Department under the Punjab State Livelihoods Mission has sent a letter to four municipal corporations and 11 municipal councils in the state and asked them to return half the funds for the Pradhan Mantri Awas Yojana amounting to Rs 10.55 crore lying unused with them.
In the letter, the Local Bodies Department Director has said: "A few municipal councils have not utilised even a single penny from the housing scheme funds. The work is going on at a slow pace in some District Local Bodies, so we are directing them to return the funds to transfer it to the corporations or councils where it is going on at a rapid pace."
Further, it read that they were taking back some amount of the total funds lying at their disposal and as per their requirement and would return it in future.
The municipal councils that have not utilised even a single penny from these funds to date are Rajasansi (Rs 1.11 cr), Ramdas (Rs 1.06 cr), Patti (Rs 41.89 lakh), Khemkaran (Rs 90.41 lakh), Tarn Taran (Rs 2.41 cr), Ajnala (Rs 44.25 lakh) and Bhikhiwind (Rs 11.30 lakh).
Even the names of the four major municipal corporations Bathinda, Amritsar, Jalandhar and Mohali also figure in this list.
Bathinda had received Rs 1.50 crore, of which it has used only Rs 20.72 lakh so far and now the department has asked it to return Rs 70 lakh of the Rs 1.29 crore lying unused.
Similarly, Jalandhar received Rs 1.64 crore, of which only Rs 1 lakh has been used and have been asked to return Rs 1 crore. Ludhiana got Rs 2.33 crore, of which Rs 70 lakh has been used and Rs 1 crore has been sought by the department. Even Mohali got Rs 1.34 crore and utilized just Rs 6.40 lakh, so now the department had directed it to return Rs 70 lakh.
Moreover, the municipal councils of Nabha, Dhanula, Malerkotla and Kharar also figure in the list where the housing scheme work is going on at snail's pace and they too have also been told to return half the amount of the funds lying with them.