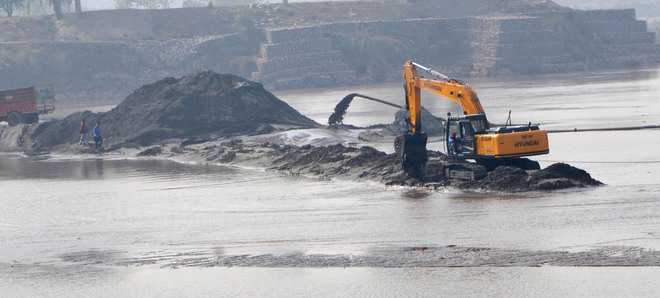 The ugly spat between a Patiala mining officer, sand mafia and the police on Nov 19 shockingly revealed the govt's failure to curb illegal mining. The Tribune team last week spread out to make a random check on the extent of the loot of the state's natural resource. What stood out was the ease with which it is done
Patiala
With political backing, no fear
Despite the Vigilance Bureau (VB) highlighting illegal mining near the Ghaggar riverbed, business is thriving as officers in the district have turned mute spectators in the face of a strong politically backed lobby. Despite police raids, rarely is anyone arrested. And if someone does get arrested, no inquiry follows.
Mining that goes on with suspected collusion of the local police and irrigation officials has led to environmental degradation, leading to floods in the monsoon. The mafia is allegedly backed by an MLA, who also doubles as a contractor, or asks his aides to take construction contracts in the area.
"Henchmen then plunder the Ghaggar and deliver to construction sites without paying tax," one person involved in mining told The Tribune.
In a letter written on November 9, the VB had specifically asked the Patiala police and the departments of Irrigation and Mining to check illegal mining in the Ghaggar.
While the police did not do anything, a mining officer was harassed and allegedly assaulted by the cops, who ideally should have acted against illegal mining.
A typical example of the police letting such operators go was witnessed earlier this year when the Ghagga police got a tip-off pertaining to mining and caught one suspect along with a JCB machine at Darouli village. The person arrested was Nirvair Singh, a resident of Darouli. The police registered an FIR under Section 379 of the IPC and the Mines and Minerals Act against Nirvair Singh and two others, Sarabjit Singh and Harjinder Singh, at Ghagga police station, while the JCB was impounded. Nine months later, the suspects are free, as they submitted an application seeking an inquiry by a senior officer despite the fact that one inquiry had found them guilty, said Ghagga SHO Parmeet Singh.
According to locals, even under the present government, SHOs wait for "orders from their political bosses" before taking action. "We cannot do much as local leaders are usually behind it, and senior officials are aware of the goings-on," an SHO who has earlier been posted in one such police station told The Tribune.— Aman Sood
JALANDHAR
No mining official, sand is gold
With not even a single mining official posted in Jalandhar for the past several years, sand mafia here has been able to turn sand into gold.
A Tribune visit to villages across the 85-km stretch from Panj Dhera village in Phillaur to Mehatpur, Shahkot, Malsian, and to Gidderpindi village in Kapurthala, revealed a majority of the villages to be hotbeds of illegal mining.
A farmer in Mallu Machhi village of Sultanpur Lodhi, where Jalandhar, Kapurthala and Ferozepur districts meet, said sand operators had purchased land close to auctioned quarries, and were carrying on illegal mining in over 200 acres there.
"Local villagers, too, have become part of the well-oiled network by providing cheap labour and transportation," the farmer, who did not want to be identified, said.
He said an authorised quarry contractor 'sells' an original gate pass for anything between Rs 3,000 and Rs 5,000 to illegal operators, which provides the latter impunity from any check on the way.
These operators pay another Rs 500 to Rs 1,200 per vehicle to landowners and make multiple rounds for lifting sand on a single receipt, without crossing the weighbridge. The sand is ultimately sold for Rs 9,000 to Rs 13,000.
Mukesh Khanna, General Manager (Industries-cum-Mining Officer), Jalandhar, said illegal activity was not rampant in the area. But The Tribune team saw mining being done openly in Qaimwala and Khurlapur villages in Nakodar and in the Beas near Shahkot.
A government contractor at Pipli village was found to be in possession of the GM's official stamp, which he was using to 'produce' genuine receipts. When contacted, the GM said, "I am not aware how my stamp has reached Pipli, especially when there is no need for a stamp on the computer-generated receipt."— Rachna Khaira
Amritsar
Illegal trucks ruin village peace
With only six quarries having been allotted out of 14 in the district, sand mining is continuing illegally in full swing. Ajnala subdivision, with nine quarries, is known for its fine sand from the Ravi riverbed. Baba Bakala subdivision's Beas area has five quarries.
A resident of Balarwal village in Ajnala, who is involved in the trade, said with the change in government, only those operating at the top had changed, while the operations on the ground continued as earlier. A quarry in Ajnala's Sarngdev village is yet to be allotted, but The Tribune saw mining going on there unhindered. Locals say the operation starts late in the evening and continues till the morning to escape attention.
Sarngdev is a village bustling with 50 shops. It has pucca link roads, but residents are angry over trucks carrying illegally mined sand ruining their peace. The trucks are a safety hazard; they also damage the roads.
Farmers are permitted to excavate their fields not more than 10-ft deep, but they are also involved in mining the 'minor mineral' beyond permitted levels.
Ajnala SDM Rajat Oberoi said a team of officials from various departments, including Irrigation, Drainage, Forest and Mining, had been formed. They took action whenever illegal mining was detected. Cases were also registered under the Public Premises (Eviction of Unauthorised Occupants) Act against farmers exceeding the digging limit.
District Mining Officer Bhola Singh Brar said over 100 FIRs had been lodged in connection with illegal mining this year.— Neeraj Bagga
Ferozepur
As sun sets, it's time to get busy
Illegal sand mining continues unabated in the border district of Ferozepur. As the sun sets, dozens of tippers and tractor-trailers loaded with sand move out in various directions from mines being operated clandestinely. Most of the activity takes place along the Sutlej belt, especially in Zira, Guruharsahai and Mamdot areas.
The entire business, though illegal, is carried out in an organised manner, with shares of all stakeholders, including operators and contractors, fixed. More than 500 cases under various sections of the IPC and the Mining and Minerals Development Act, 1957, have been registered to date this year. Besides, more than Rs 10 crore has been slapped as penalty by the district administration. Over two dozen JCBs, Poclain machines and other equipment worth crores have also been confiscated.
There are 35 approved sites for mining in Ferozepur district, of which 33 are operational. However, the number of illegal sites is much more.
Faridkot district has only three authorised sites for sand mining — in Arianawala, Jand Sahib and Doad villages. While there was no report of illegal mining there, contractors are digging much below the approved level. In Muktsar district, occasional illegal mining from canals and minors has been reported.— Anirudh Gupta, Balwant Garg and Archit Watts
Jagraon
Mining without approval
Though the government has not auctioned any site for mining in Sutlej in the Sidhwan Bet area, it goes on unchecked in some villages, particularly Gorsian Khan Mohammad and Bhundri.
According to sources, the mafia has been excavating around 100 tippers (trucks) of sand every day from the riverbed near the two villages. "A truck carries around 1,000 cubic ft of sand with a market value of around Rs 30,000.
Residents of Gorsian Khan Mohammad village say the practice has been going on for a long time, and most of the work is done at night. A visit to the spot revealed heavy machines, including excavators and JCBs, mining and loading sand on to trucks.
Sources said the operators had hired musclemen who threatened villagers if they objected to the mining. Link roads of the area have also been damaged by the trucks. Amarjit Bhatia, GM, Mining Department, Ludhiana, claimed he was not aware of illegal mining in the Sidhwan Bet area.
Regarding mining near Gorsian Khan Mohammad village, he claimed it was being done at the authorised Kaimbad site, and the contractor was only supplying sand to Ludhiana through the village.— Jaswant Shetra
Ropar
Cutting into riverbank
The mining mafia in the district plunders with impunity, with neither the change of government nor action by the administration able to slow them down.
Two weeks ago, DC Gurneet Tej recommended the cancellation of lease of the Baihara quarry after an inquiry panel found digging of the riverbed to a depth of 18 ft against the limit of 10 ft.
Yet, last week, machines could be seen busy at work in the Swarah quarry in the Soan river. While giving environmental clearance for the quarry in an area of 62.69 hectares, the permitted working depth was fixed at 10 ft. To maintain safety and stability of the river bank, 3 metre, or 10 per cent of the width of the river, whichever is more, was declared a no-mining zone. However, material has been dug up to the banks, even baring roots of trees.
AAP leader and local MLA Amarjit Singh Sandoa alleged that the mining mafia were active all over the district, including in Chandpur, Agampur, and Purkhali. He had met officials concerned several times, but to no effect, he alleged.
Chiman Lal Garg, Mining General Manager, denying laxity, claimed that officials were sent immediately to the spot on every complaint. He said department officials had to work hard as they had less than 50 per cent of the required staff.— Arun Sharma
Top News