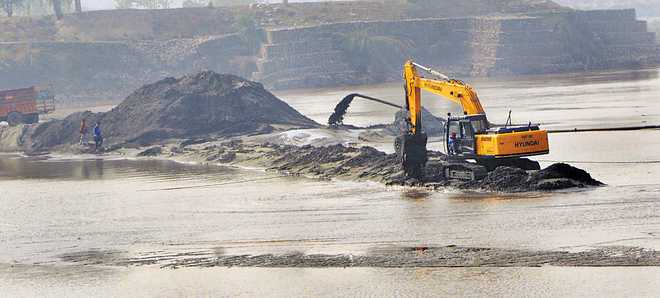 Rachna Khaira
Tribune News Service
Jalandhar, March 8
Amid the state government's efforts to crack the whip on the mining mafia, The Tribune investigates how the illegal activity is being carried out in the state even by authorised contractors.
Modus operandi
Sources say many politicians, who have stakes in the mining business, have bought land around marked quarries and are working hand in glove with the contractors to dig out sand in their respective areas.
A mining official says the contractors during the SAD-BJP rule had been paying a compensation of Rs 60 per tonne directly to the farmers for quarrying on their land. But now the compensation is being paid through the Mining Department.
The sources claim: "Instead of digging out sand from the allotted quarry, the contractors take out more sand from the adjoining area by paying a meagre amount to the land owner and avoid paying hefty compensation for legal mining. They also happily shell out 'goonda tax'at exit points at the rate of Rs 100 per tractor-trailer. Since the money earned this way is much higher (up to Rs 50,000 a day), illegal mining is flourishing across the state."
Loss to state exchequer
The sources allege some mining officials in connivance with politicians do not mention potential mining sites in government records, causing a heavy loss to the state exchequer. Some officials even reported to have connived with the sand mafia and got stakes in these sites. The sources allege that some panchayats are also involved in sites located in their area.
Unregistered vehicles
The sand mafia and contractors transport mining minerals on tractor-trailers, which in most cases are unregistered.
In the absence of a mining official at quarries, the contractors, in sole possession of the official stamp, misrepresent facts about weight loaded on a vehicle. They also mention chassis number on the challan slip instead of the vehicle registration number. With no check by either the mining official at the site and by police en route, these unregistered vehicles reach the destination without much hassle.
The fact was revealed during checking online details of vehicles issued challans by the district mining officer in Jalandhar. It was found that a majority of the challan slips carried only chassis numbers.
When contacted, Mahesh Khanna, GM (Industries)-cum-Mining Officer, Jalandhar, confirmed that only the chassis number was mentioned on the challan slips as these vehicles did not have a registration number.
Eco agencies under lens
Agencies like the Punjab Pollution Control Board, State Level Environment Impact Assessment Authority and the Central Environmental Agency, too, have come under the scanner for their alleged failure to stop illegal mining that has eroded the natural resources of the state. Sources say the Chief Minister is planning to crack the whip on some officials of these agencies as well.
Top Stories