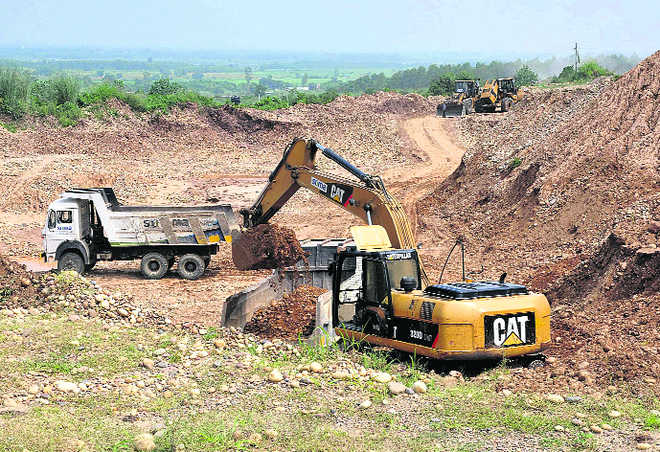 Tribune News Service
Chandigarh, May 1
A month after the Punjab and Haryana High Court questioned the state on its apparent inaction against "big fish" in illegal mining cases, a Division Bench on Tuesday made it clear that it was not averse to have the matter probed under the supervision of retired HC judges.
As the case came up for resumed hearing before the Bench of Justice AK Mittal and Justice Anupinder Singh Grewal, the state counsel suggested the names IAS officers Parbodh Kumar, Kunwar Vijay Partap and Dhurav Dhiyaan for constituting a special investigation team to carry out effective probe.
The Bench, during the course of hearing, was also told about the need to insulate the SIT members from political and other influences. In the process, the suggestion to have the case probed under the supervision of retired High Court judges was mooted. The Bench then asked the counsel concerned to come out with names of retired judges on May 7, the next date of hearing in the case.
The developments took place on a petition filed in 2012 by city resident Gurbir Singh Pannu through RS Bains. He was seeking action in a transparent and time-bound manner to curtail illegal mining. Directions were also sought to the Union of India to decide pending environmental clearance issues within three months.
The Bench, on a previous date of hearing, had verbally observed that the government was registering cases against truck drivers while leaving the big fish out.
Responding to the assertions, the state counsel had submitted that even the CM was serious about curbing the menace and directions had already been issued to various departments. Besides, even the truck owners had been preceded against. Action had also been initiated against an inspector.
Top News
AICC observers dub 92 MLAs' meet as 'indiscipline' | Sonia G...
Says Rajasthan Congress crisis all about dynastic politics
Won't make Article 370 a poll issue, he says
Abe was shot dead while making campaign speech in city of Na...
'Were spreading hatred amongst religious communities'