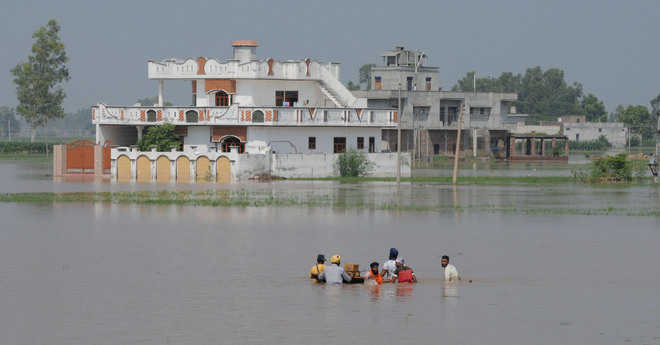 Aparna Banerji
Tribune News Service
Jalandhar, August 26
Three days after a deluge hit the area, a 15-member delegation from Rame and Bamniyan villages in Lohian went to the Shahkot police station to complain about tippers and trailers picking up sand illegally from the bundh that protects their villages against Sutlej waters. They haven't heard back from the police so far.
Manjit Singh, who lives around 1 km away from the Meowal village bundh — the site of first breach in the district that caused the Sutlej to flood Phillaur — was among the villagers who held a dharna against illegal mining months ago. Villagers also wrote to the CM on the issue in March. They said there would have been no breach, had there been no sand mining.
Residents of a number of villages situated along the Sutlej banks in the district have been complaining about illegal mining, but to no avail. Some cases were taken up temporarily, but there seems to be no perceptible headway even after several months.
Balwant Singh, whose house will be flooded if the bundh at Rame is breached, said, "While the administration is plugging breaches at some places and villagers piling up sand bags to avoid new ones, tippers and trolleys continue to eat away sand from places nearby. My house is very close to the bundh. We complained to the police on Friday, but there has been no response so far. Now, I have resigned myself to my fate. If mining goes on unchecked, a breach is certain."
On March 6, 2018, CM Amarinder Singh had tweeted: "Was on my way to Kartarpur when I saw some JCB machines evidently engaged in illegal mining on the Sutlej banks in Phillaur (Jalandhar) and Rahon (Nawanshahr). Immediately ordered probe and asked the DCs and SSPs concerned to seize the equipment. Responsibility will be fixed."
Hardev Singh Ladi Sherowalia faced allegations of illegal mining in the Shahkot constituency. The case against him was, however, withdrawn within three weeks of his being elected an MLA from the constituency.
Other villages from where complaints of illegal mining have been received include Ismailpur, Danewal, Burewal, Pindiwal, Mao Sahib.
Nachattar Singh, grandson of Akali leader Ajit Singh Kohar, said, "It first started at Danewal and Burewal, but mining was later reported from all across the 50-60 km stretch of the riverbank in the area."
Shahkot police station SHO Surinder Kumar said, "On Saturday, I sent an ASI to check the situation after a complaint from Rame village was received. Only an empty tipper was found there. We have no information as regards illegal sand mining from anywhere during the floods."
Water Resources, Mine and Geology Minister Sukhbinder Singh Sarkaria could not be contacted despite repeated attempts.