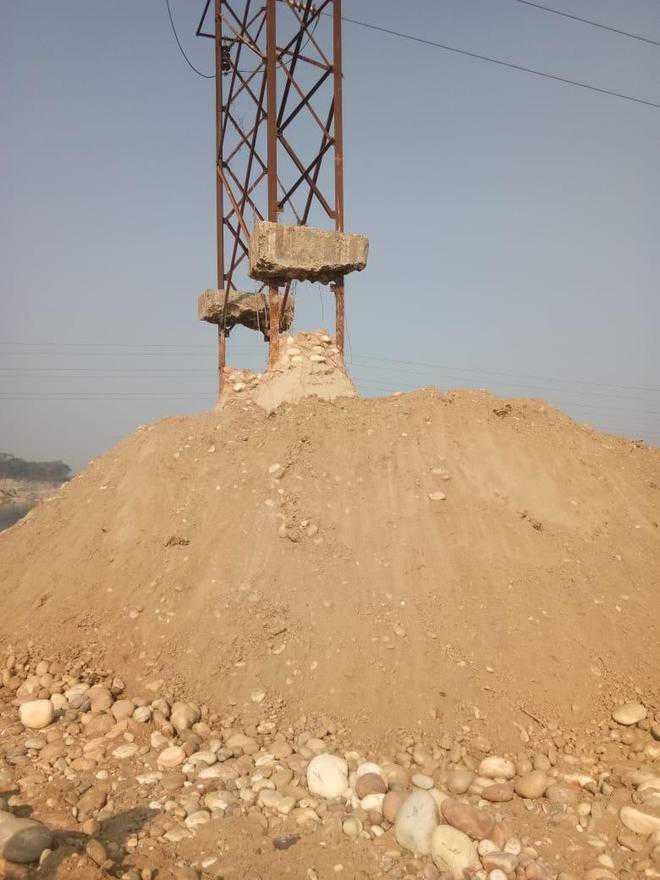 Arun Sharma
Tribune News Service
Ropar, December 27
Belying claims of the state government on strict action against illegal mining, the mafia has again dug deep into the Sutlej riverbed, endangering the power supply poles. Damage to these poles would plunge at least 150 villages into dark for nearly a month.
The Punjab State Power Corporation Limited (PSPCL) authorities said despite their repeated requests, the district police and administration officials have failed to stop illegal mining in the area.
The pillars of a huge bridge near the spot at Agampur have already been exposed due to mining in the area.
PSPCL XEN Hardidar Singh Sidhu said his department had written 35 letters in the past three years to check mining around the electricity poles.
"During my tenure of six months, I have written 10 such letters to the local police, Deputy Superintendent of Police, Senior Superintendent of Police, Sub-Divisional Magistrate and the Deputy Commissioner in this regard," Sidhu added.
The Deputy Commissioner, issuing directions of strict action against the accused, has asked the local authorities to help repair the damaged foundation, he added.
Sidhu said it was noticed that illegal mining in the area had posed danger to nine power supply poles. In case any of the poles was uprooted, it would take at least 20 days to restore power to the connected area, he added.
The 66-kV power supply line from Anandpur Sahib is connected to substations of Nurpur Bedi and Bajroor and another upcoming substation at Nalhoti would also get supply from it, he added.
Ropar Deputy Commissioner Sumeet Jarangal said the matter was brought to his notice by the PSPCL authorities and appropriate action was being taken in the matter.
Top News
AICC observers dub 92 MLAs' meet as 'indiscipline' | Sonia m...
Says R'sthan crisis all about dynastic politics
Won't make Article 370 a poll issue, he says