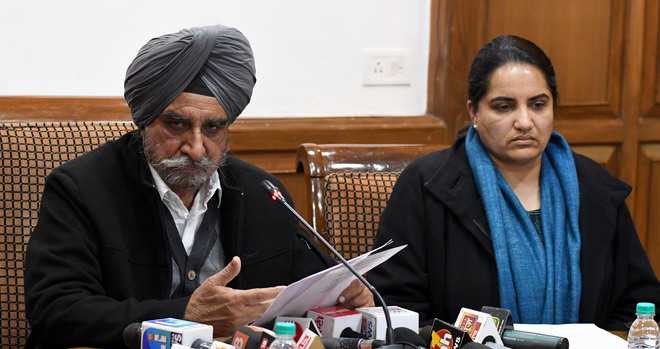 Tribune News Service
Chandigarh, January 9
Tript Rajinder Singh Bajwa, Minister for Rural Development and Panchayats, said today that illegal mining was taking place even on government land.
In a press conference called to share achievements of his ministry, he said the mining mafia had not even spared land belonging to the Rural Development and Panchayats Department in Punjab. He said illegal sand mining was taking place on around 3,000 acres located on the banks of two rivers Sutlej and Ravi. He said due to illegal mining, the Department of Rural Development and Panchayats, which was the owner of the land on which illegal mining was taking places, was losing around Rs 100 crore every year.
He said taking note of the situation, he had written to the Chief Minister to allow the department to permit the Mining Department to include these 3,000 acres in their mining auctions. "This initiative will help increase the income of the department and will put an end to the illegal mining on the panchayat lands," he said.
In order to permanently solve the problem of "hadda rori" in villages, the minister said the Panchayat Department had proposed to establish rendering plants on the PPP mode for disposing of in a scientific way the carcasses of the dead animals. The plants would be coming up at Patiala, Amritsar and Ludhiana as pilot projects regarding which the necessary action was underway. This would lead to an income of Rs 5,000 from every dead animal after processing, while putting a stop to the menace of stray dogs.
Listing another project, the minister said the department would encourage the planting of saplings besides promoting the concept of agro-forestry so as to augment the income of the panchayats after proper utilisation of the panchayat land in the semi-hilly and Kandi areas. Under the scheme, the department had identified 1 lakh acre area. In the first year, 35,000 acre area would be brought under use. 50 lakh saplings would be planted under MGNREGA in the 25,000 acre area.
Top News
Russian President vows to protect newly annexed Donetsk, Luh...
It is 80-year-old former 9-term MLA and a 3-term MP Kharge v...
Stated that 'no one does such things on purpose' and added t...
There is a heated argument between MLA Sukhpal Khaira and Sp...
After the first referendum, both countries have issued trave...