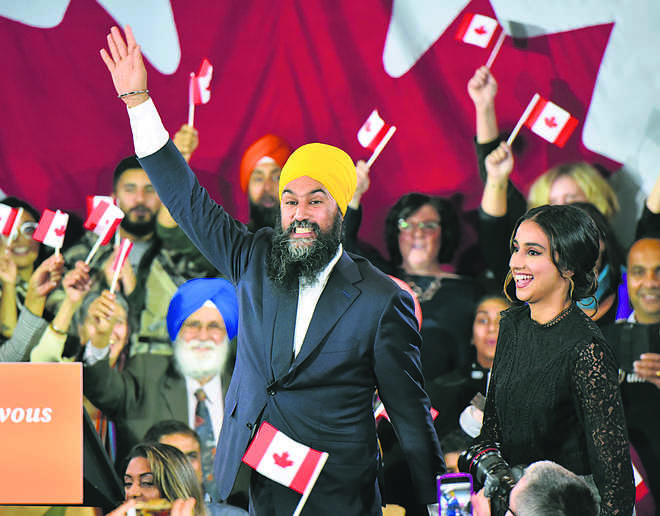 Vishav Bharti
Tribune News Service
Chandigarh, October 22
Young Punjabi-origin politician Jagmeet Singh is set to play kingmaker in Canada with his New Democratic Party (NDP) winning 24 seats, which may prove vital for Prime Minister Justin Trudeau to get a second term in office.
In the results of general election declared today, Trudeau's Liberal Party bagged 157 seats, 13 short of the 170 majority mark in the 338-member House. Trudeau needs support from the rival NDP and other Left-leaning parties to reach the magic number to form a Liberal Party-led minority government.
While the NDP lost nearly half the seats as compared to 44 the party won in 2015, a confident Jagmeet, 40, said: "We have the incredible opportunity to make the lives of all Canadians so much better."
His ancestral Thikriwala village in Barnala district erupted as the results came in, distributing sweets and bursting firecrackers. "His party's support will decide who will be the next Prime Minister," said Nardev Singh Aulakh a village resident. Founder of Praja Mandal (self-rule movement in princely states) martyr Sewa Singh Thikriwala and Jagmeet's great-grandfather Captain Hira Singh were cousins.
Jagmeet became leader of the NDP in 2017. Canada's prominent daily 'The Toronto Star' observed, "The New Democratic Party is poised to play kingmaker in a minority parliament after Jagmeet spearheaded a turnaround on the federal campaign trail that may have saved his leadership and pulled his party from the brink of irrelevance."
Jagmeet in a speech said his party would now be "working hard" to deliver on the "priorities that Canadians have". "When we get back to Ottawa, every single day we are in parliament, New Democrats are going to be working to make sure Canadians' lives are better," he was quoted as saying.
Jagmeet said his party's elected officials will now head to Ottawa to tackle a number of issues, including taking "real and urgent action" on climate change, making life more affordable for Canadians and making sure the "super-wealthy pay their fair share".