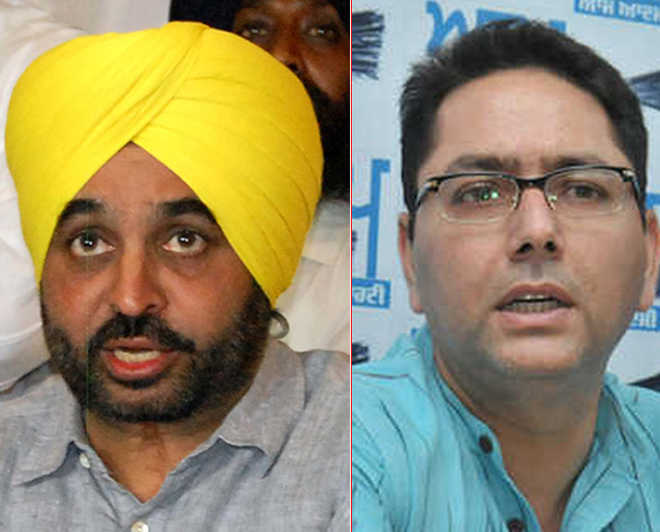 Jupinder Singh
Tribune News Service
Chandigarh, March 16
A day after Delhi Chief Minister and AAP chief Arvind Kejriwal apologised to former Punjab minister Bikram Singh Majithia for alleging that the latter was involved in drug trade, Punjab Aam Aadmi Party's top two leaders—president Bhagwant Mann and co-president Aman Arora— resigned from their positions on Friday.
Mann said that his "fight against drug mafia and corruption will continue".
The Delhi chief minister's apology drew flak from his party's leaders and MLAs in Punjab, who said they were "stunned" by the move and "disappointed" as Kejriwal had not kept them in the "loop".
READ:
Mann announced his resignation on Twitter.
"..I m resigning as a president of AAP Punjab...but my fight against drug mafia and all kind of corruption in Punjab will continue as an "Aam Aadmi" of Punjab (sic)," Mann said in a tweet.
Hours later, Arora, who had also voiced his disappointment at the apology, also said he was putting in his papers.
"Rspctd @msisodia ji, Due to painful turn of events since yesterday, plz accept my resignation from the post of Co-President.Rgds," his tweet read.
Rspctd @msisodia ji,
Due to painful turn of events since yesterday, plz accept my resignation from the post of Co-President.Rgds @thetribunechd @htTweets @abpsa
njha @timesofindia @ZeePunjab @News18Punjab @ptc @IndiaNewsPunjab @punjabkesari @PTI_News@ANI

— Aman Arora (@AroraAmanSunam) March 16, 2018
Senior AAP leader Manish Sisodia—Delhi's deputy chief minister—said after Arora's resignation that there was no rift in the party over Kejriwal's apology.
"All are together. We'll talk to them. They'll understand," Sisodia said.
Later in the day, Kharar Member of Legislative Assembly Kanwar Sandhu said that although there were some calls in Friday's meeting of AAP's MLAs for the party's Punjab unit to break away from the Delhi unit, there was no consensus.
"So the decision has been deferred," Sandhu said.
The chief minister in his apology letter had said, "In the recent past I made certain statements and allegations against you (Majithia) regarding your alleged involvement in the drug trade. These statements became a political issue."
"Now I've learnt that the allegations are unfounded. Hence, there should be no politics on such issues. I hereby withdraw all my statements and allegations made against you and apologise for the same," he said.
Leader of Opposition in Punjab Sukhpal Singh Khaira said that he was "stunned" by the apology by Kejriwal.
"We're appalled n stunned by the apology of @ArvindKejriwal tendered today, we don't hesitate to admit that we haven't been consulted on this meek surrender by a leader of his stature," he said on Twitter.
In another tweet, Khaira said, "We promise to continue our tirade on the burning issue of drugs destroying the youth of Punjab".
"I fail to understand the timing of Kejriwal's apology when STF of PB has stated to the High Court today that there's substantial evidence to proceed against Bikram Majitha on the issue of drugs-khaira (sic)," he had tweeted yesterday.
The AAP's Kharar MLA Kanwar Sandhu also reacted sharply to the apology, tweeting "Arvind kejriwal' apology to Bikram majithia in the defamation case on drugs is a let down to the people, especially the youth of Punjab. We in punjab have not been taken into the loop. Our fight for Punjab continues." "Shocked & disappointed 2 know abt the apology tendered by Arvind Kejriwal 2 Majithia. I still believe drugs wud not have taken so much young lives had the previous Govt not patronised drug mafia. Our fight against drugs continues," the party's Punjab unit co-president Aman Arora tweeted.
Lok Insaf Party (LIP) leader Simarjeet Singh Bains was also miffed at the apology by Kejriwal to Majithia. The LIP is AAP's ally in Punjab.
Mann represents the Sangrur parliamentary constituency in the Lok Sabha.
He was appointed the state party chief in May 2017.
Majithia had filed a defamation case against Kejriwal and others following the allegation made during campaigning in the Punjab Assembly elections.
ਮੈਂ ਆਮ ਆਦਮੀ ਪਾਰਟੀ ਪੰਜਾਬ ਦੀ ਪ੍ਰਧਾਨਗੀ ਦੇ ਅਹੁਦੇ ਤੋਂ ਅਸਤੀਫ਼ਾ ਦੇ ਰਿਹਾ ਹਾਂ ..
I m resigning as a president of AAP Punjab ...but my fight against drug mafia and all kind of corruption in Punjab will continue as an "Aam Aadmi " of Punjab

— Bhagwant Mann (@BhagwantMann) March 16, 2018
Leader of Opposition Sukhpal Singh Khaira said, "All of us in Punjab are not very happy with Kejriwal ji apologise to Majithia. Strong evidences against Majithia have been submitted by the Special Task Force (STF) of the state government in the Punjab and Haryana High Court. We MLAs are going to discuss the issue."
This exposes cheap politics by AAP, they spread false propaganda. They build their entire election campaign (in Punjab) on a lie, good that he has accepted his lies: Union Minister Harsimrat Kaur Badal on Arvind Kejriwal's apology to Bikram Singh Majithia pic.twitter.com/wiGIaTeFrC

— ANI (@ANI) March 16, 2018
This is betrayal to people of Punjab, people will not bear with it. This is a non-issue, probably there is a back-door dealing behind it. Our MLAs will sit together & take a collective decision: Simarjit Singh Bains, Lok Insaf Party on if they will snap alliance with AAP #Punjab pic.twitter.com/d5ZlDfiohO

— ANI (@ANI) March 16, 2018
All of us in Punjab are saddened to learn how Kejriwal ji has went to apologise to Majithia when state govt's STF has submitted in High Court that there is strong clinching evidence against him. AAP MLAs with gather & take stock of the situation: Sukhpal Singh Khaira, AAP #Punjab pic.twitter.com/CPqcahDTWj

— ANI (@ANI) March 16, 2018
#Visuals of Aam Aadmi Party MLAs meeting in Chandigarh. pic.twitter.com/tlZRGi0S0X

— ANI (@ANI) March 16, 2018
Top Stories