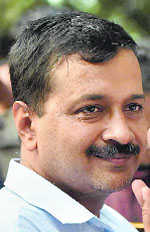 Ruchika M Khanna
Tribune News Service
Chandigarh, March 15
As Delhi Chief Minister Arvind Kejriwal apologised to former Punjab minister Bikram Singh Majithia for alleging that the latter was involved in drug trade, top leaders in the Punjab unit of the Aam Aadmi Party openly defied the party supremo for "letting down the people of Punjab".
Leader of Opposition Sukhpal Singh Khaira and Kharar MLA Kanwar Sandhu took to the social media to air their grievance. The rumblings within the Punjab unit began soon after Majithia released a letter sent by Kejriwal.
(Follow The Tribune on Facebook; and Twitter @thetribunechd)
Majithia had filed a defamation case against Kejriwal on May 20, 2016. Khaira tweeted: "We are appalled and stunned by the apology... and don't hesitate to admit that we have not been consulted on this meek surrender." Sandhu said that if you stand for truth, facing defamation is a way of life.
Sandhu said an emergency meeting of AAP MLAs has been called on Friday. "On one hand, the Special Task Force on drugs in Punjab has indicted Majithia, and on the other our own leader is asking for his apology," he added. Many AAP MLAs feel this is a betrayal as the political "involvement" in illicit drug trade was one of the major planks on which the party got votes.
"This proves they were raking up the issue to tarnish my image, harm me politically and themselves make political gains," Majithia said, adding that he will withdraw the case. He claimed that AAP leader Ashish Khaitan too had submitted an offer of regret.
In the letter, Kejriwal said, "I made statements and allegations... these became a political issue. Now I've learnt these are unfounded... I hereby withdraw all... and apologise."