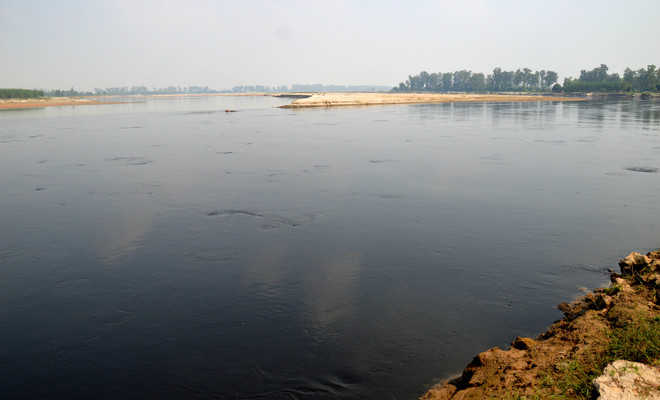 Harshraj Singh
Tribune News Service
Ludhiana, October 10
Despite becoming a poll issue many times in the past few decades, the menace of Buddha Nullah polluting the Sutlej remains unaddressed as the successive governments failed to do the needful. The polluted nullah has contaminated the groundwater in various areas located near the river and as well as the drain.
The highly polluted water of Buddha Nullah flows into the Sutlej River near Walipur Khurd village in Dakha, causing serious health problems to people not only from areas in Ludhiana district, but also various other parts of the state and even Rajasthan.
Ahead of the Dakha bypoll, scheduled for October 21, some candidates visited the affected villages, giving assurance to the residents for an early redressal of the problem. However, villagers said such promises had been made earlier too, but nothing had been done on ground.
Untreated waste from factories and MC sewers is dumped into Buddha Nullah, which was once known as Buddha Dariya, at various locations. It is difficult to stand near its banks as foul smell emanates from the nullah.
Labh Singh (97) of Walipur Khurd lives near that spot. "Buddha Dariya's water was once clean. Around 1978, the water body started turning into a nullah. We used to drink water from a handpump, which was lifting water from just 25 ft below ground. The Buddha Nullah then started polluting groundwater too."
Another resident Harcharan Singh said, "The polluted water has killed many animals, fish and birds so far. Residents of villages located near the banks of Buddha Nullah and the Sutlej have been suffering a lot for a long time. We want that the drain water be treated before it flows into the Sutlej."
Various projects were previously announced for cleaning the drain, but to no avail. A project, "Abatement of pollution in Buddha Nullah", was proposed around five years ago during the SAD-BJP rule, but it could not see the light of day. Even after the Congress came to power, no concrete steps were taken.
When contacted, Ludhiana MP Ravneet Singh Bittu said he had met Union Jal Shakti Minister Gajendra Singh Shekhawat on the issue. "I will request the minister to visit the Buddha Nullah sites. The problem of water pollution will be resolved in the next three years," said Bittu.