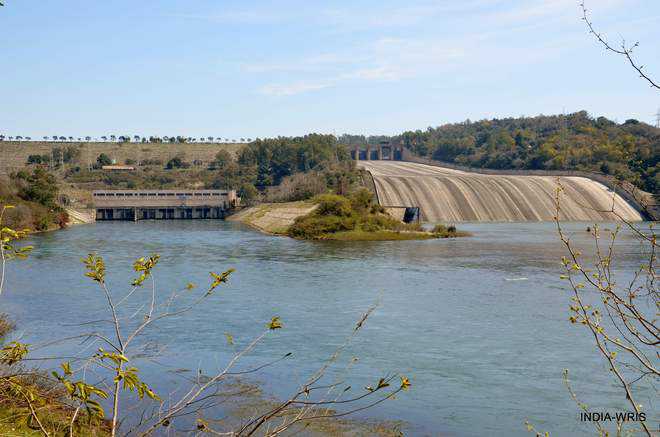 Vijay Mohan
Tribune News Service
Chandigarh, August 17
While the forecast of heavy rains in the region over the next few days poses a risk to life and property, it is also welcome news to the water management authorities as far as the Pong Dam is concerned. The reservoir at the dam, which lies in Himachal Pradesh across the Beas, is at present filled up to 60 per cent of its total capacity, which is still a notch below the average storage of the past 10 years at this time of the season.
---
Read Also:
---
"Unlike the Bhakra Dam, where the water inflow is primarily dependent on snowmelt, rain water accounts for over 80 per cent of the Pong Dam's inflow," on official of the Bhakra Beas Management Board (BBMB) said. Following unusual heavy rains in autumn last, the Pong Dam had filled up to full capacity but the storage had fallen to 32 per cent by early July this year, according to data available with the Central Water Commission. Both the Bhakra and Pong dams are critical for power generation and irrigation in the region. They have an installed generation capacity of 1,325 MW and 396 MW, respectively, and supply water for drinking and irrigation to Punjab, Haryana, Rajasthan, Delhi and Chandigarh.
One reason for the Pong Dam's relatively low storage is low rainfall in the dam's catchment area. Monsoon has been deficient by 21 per cent so far in Himachal, with the shortfall in the upper areas like Lahaul and Spiti and Chamba being as high as 68 per cent and 50 per cent, respectively. Bhakra, on the other hand has already filled up to over 82 per cent of its capacity, which is about 20 per cent more that the average storage of the past 10 years. With warnings of heavy rainfall issued by the Meteorological Department, the BBMB authorities had opened the dam's sluice gates yesterday to release more water than usual for catering to heavy inflow.
Since the dam's filling season officially extends up to September 30 and rains as well as snowmelt are likely to continue, the BBMB authorities expect that the Bhakra Dam's reservoir will reach its maximum permissible limit of 1,680 feet, with an additional 3 ft buffer to cater to any emergent situation like a cloudburst. This level was last achieved in 2011. The level recorded at the Bhakra Dam today was 1,675 ft.