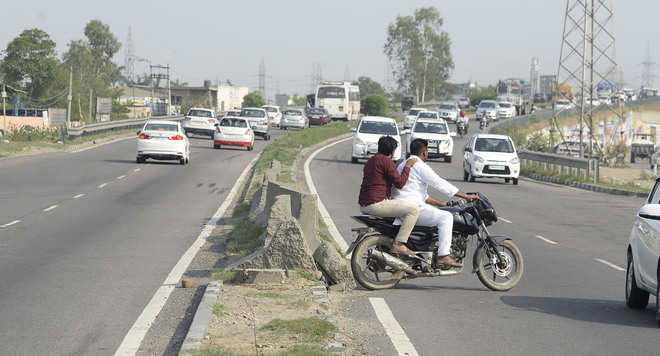 Rachna Khaira
Tribune News Service
Kapurthala, April 17
In a move to plug illegal access to and from the Jalandhar-Ludhiana National Highway (NH-1A), Permanent Lok Adalat chairperson Manju Rana here on Tuesday barred the National Highways Authority of India (NHAI) from collecting toll at the Ladowal barrier near Phillaur.
"The road does not comply with safety provisions under the Control of National Highway, Land and Traffic Act, 2000... Accidents have increased day by day in an area of 10 km falling within the jurisdiction of Chaheru police station... Hence, the NHAI is stopped from charging toll at the barrier till the compliance of the order," stated the order.
The toll plaza, which charges Rs 185 for a round trip, reportedly generates revenue of Rs 20 lakh every day. The Lok Adalat had issued directions to the NHAI on March 15 to close the illegal access outside the main gate of Phagwara-based Lovely Professional University (LPU), for the sake of students' safety, within 15 days from the date of the order.
The court observed that the NHAI had been unable to control the flow of overloaded vehicles running at a speed of 100 to 120 kmph, even as 71 accidents had been reported in the area in the past five years and a majority of the victims had died.
Within minutes of the issuance of the order, NHAI counsel JS Rathore produced over 35 notices issued to buildings for gaining unauthorised access from NH-1A. Besides LPU, the notices were issued to car dealers, marriage palaces and filling stations. The court told the NHAI to first comply with the order and plug illegal access points.
Summons to LPU
The court has also issued summons to LPU and the University Grants Commission (UGC) after it found contradictory statements submitted by the university in the court during the hearing.
A reply submitted by LPU stated that the university got the building plan approved in January 2018, while the UGC has been told to explain why it had granted affiliation in 2005 to the institution which did not an approved building at that time.
Notices were also served on the Punjab Chief Secretary, Local Bodies Minister Navjot Sidhu, the Punjab Pollution Control Board (PPCB) and the Punjab State Power Corporation Limited (PSPCL) for granting approvals to 51 illegal structures, including marriage palaces and banquet halls, that were constructed on NH-1A in the past few years. The next hearing has been scheduled for April 24.
Aman Mittal, Director, Public Relations, LPU, refused to comment on the matter, saying that it was sub judice.