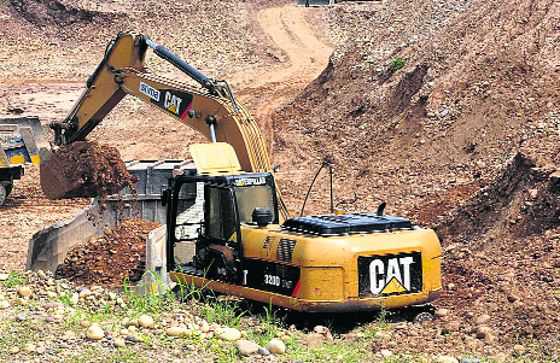 Shivani Bhakoo
Tribune News Service
Ludhiana, July 3
The government has stopped digging sand from riverbeds for the next three months from July 1 onwards. With the result, the rates of sand have increased by Rs 2,000 in just two days.
An owner of a retail store here told The Tribune that because of the monsoon season, for next three months there will be no digging from riverbeds.
"Two days back, the rate of sand was Rs 13,000 per tipper with 950 ft of sand. In the last two days, the rates have increased to Rs 15,000 for the same quantity. And in days to come, it is expected to reach anywhere up to Rs 25,000 per 950 ft of sand. People who are constructing houses/office premises are finding it difficult to buy sand at such exorbitant prices," said the retailer. At the same time, he said, though government agencies had stopped digging sand but illegal digging would continue as ever.
He said this was the time for illegal sand traders to get maximum returns. These persons continue with the digging of sand even from the beds of rivers. "And when raids are conducted, they flee leaving everything behind. Once everything is settled, the digging of sand is resumed from some other point. These persons then stock the sand and sell it to retailers/customers at hefty prices," said the retailer in the Miller Ganj area.
Sanjay Goel, Chiarman, IIA, Punjab Chapter, said the increase in rates of sand would cast impact on the construction business. "Those constructing small houses or shops, etc, will either slow-down with the construction or stop for the time being till the prices come down. As far as big buildings are concerned, they know that these three months, mines will be shut. They stock or make alternate arrangements so that work is not stopped. Moreover they use Pathankot sand (which one gets after crushing big stones) for big buildings due to its strength," said Goel.
May rise further
If retailers are to be believed, the rates are going to increase further in the coming days, putting those who are carrying out construction activities in a difficult situation. At the same time, it will not pose any difficulty to big builders, who use Pathankot sand (which is 60-70%costlier as it has more strength).
Top News
The Khalistan sympathiser said if the state government had t...
'Let us not be selective,' Solicitor General said while insi...
Counting of votes will take place on May 13
Deplores attempts by Rahul Gandhi to draw parallels between ...
Petitioner sought more time from the court for producing evi...