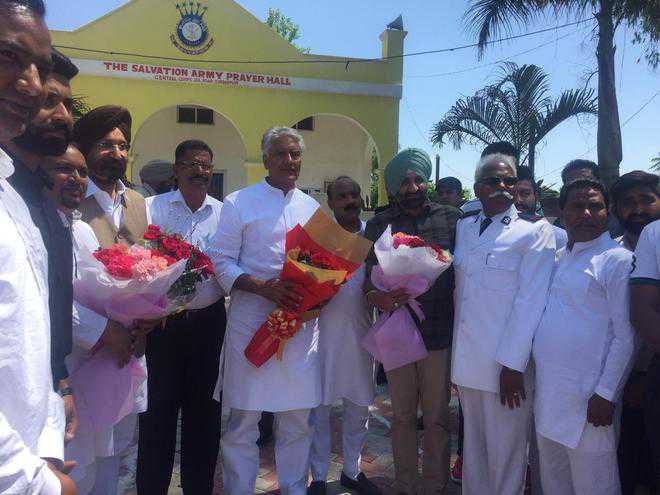 Ravi Dhaliwal
Tribune News Service
Gurdaspur, April 19
Keeping in view that the Gurdaspur seat has the maximum Christian votes among all 13 seats of the state, MP Sunil Jakhar on Good Friday reached out to the community by paying obeisance at two Churches and taking part in religious processions in Dera Baba Nanak and Fatehgarh Churian.
The MP was accompanied by Christian leaders, including Roshan Masih, president of the Gurdaspur District Congress Committee and Salamat Masih. Kanwal Bakshi, president of the United Christian Front (Punjab), too, extended his support to the MP. He urged the MP to take up the issue of reservation in government jobs for the community.
Jakhar assured them that he would take up the issue with the state government. "The benefits of reservation should flow to all sections of society and Christians should not be left behind," he said.
He touched upon the politically significant issue of burial grounds for the community while addressing gatherings. "The shortage of burial space is a problem. I came to know that some villagers have encroached upon the burial grounds. I recently took up the matter with the administration and the police and steps are now being taken to remove the encroachments. I have also convened a meeting of leaders to find a solution," he said.
The community accounts for 20-25 per cent of the votes in the constituency. The Assembly seats of Fatehgarh Churian, Gurdaspur, Batala and Dera Baba Nanak have a fair sprinkling of Christian voters.
A few months ago, Cabinet ministers Sukhjinder Singh Randhawa, Tripat Rajinder Singh Bajwa and Jakhar joined hands to ensure that Roshan Masih was appointed the GDCC chief, instead of a general category candidate. "Masih's appointment suited the Congress leaders. That is why previous incumbent Ashok Chaudhury was sidelined without assigning any reason and a Christian appointed in his place," said a minister.