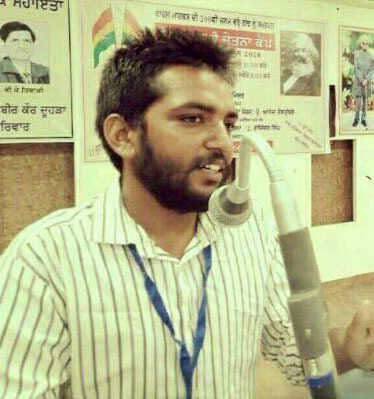 Aparna Banerji
Tribune News Service
Jalandhar, April 19
They motivate us to fight injustice and help us celebrate life through their writings, but when it comes to their own, they find it hard to cope up with reality.
A few days after the Jallianwala Bagh massacre's centenary, Harmandeep Teona, a poet from Talwandi Sabo who had put up a stall of his books on the 100th anniversary of the massacre in Bathinda – was found hanging from the ceiling fan at his home in Bathinda. Having worked hard to fund his own education, Harmandeep had also published a poetry book. He wrote against the Centre's policies.
A number of intellectuals and artistes, including acclaimed writers and thespians, have embraced death in the state, which experts say point to a disturbing trend.
Sohaj Kaur, daughter of renowned playwright Prof Ajmer Singh Aulakh, committed suicide on World Theatre Day in 2018.
Sohaj, wife of "Shiv Di Kitaab" fame Punjabi singer Gurvinder Brar, was a theatre artiste and had worked in Punjabi movies, including "Ik Kudi Punjab Di", "Putt Jattan De", "Jatt Boys" and "Mohhabtaan". She also issued a wakeup call to many women languishing in homes.
Brar says, "In the last conversation with my wife, there wasn't an inkling of sadness in her behaviour. In the present times, artists and intellectuals feel cut off from the discourse of social media. They are sensitive and the world doesn't understand their ethos. That's the only reason I have been able to figure out."
Brar wrote a song in her memory – Jyot – which has gone viral on the social media, receiving 10,44,457 views on YouTube.
In 2017, Patiala-based poet Satnam Singh, who penned acclaimed prose "Junglenama" (the English translation of which was published by Penguin), also hanged himself from a fan. Young poet Ifroz, a student of Punjabi University, Patiala, committed suicide in Patiala last year.
Farm leader and theatre person Manjit Singh Buccho (Bathinda) hung himself a year ago.
Amolak Singh, cultural convener of the Desh Bhagat Yaadgar Committee, says, "In May 1966, acclaimed Punjabi poet Nand Lal Noorpuri committed suicide by jumping into a well near his home. Now we have many following suit."
He adds, "Haukaa den vale khudkhushiyan kar rahe ne (those who used to wake up the society are extinguishing their own light). Deaths of poets, writers and intellectuals in the state point to a disturbing socio-economic crisis. This is an important issue. Why are they embracing death? In none of these cases has a suicide note been found. A majority o them just hung themselves from the ceiling fan. These are people who have fought the battles of countless underprivileged. It is shocking to see them ending their lives."