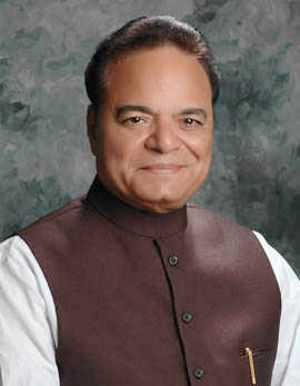 Aparna Banerji
Tribune News Service
Jalandhar, April 21
Tiding over all recent storms that threatened to rattle his campaign, Congress Member of Parliament Santokh Singh Chaudhary will file his nomination in Jalandhar tomorrow in the presence of Chief Minister Capt Amarinder Singh.
Notwithstanding a sting operation by a leading TV channel, an aggressive campaign by an adversary (a sitting MLA) and warnings of rebellion by another party veteran, the MP's differences with his opponents have been ironed out. His major adversaries — veteran leader Mohinder Kaypee and MLA Sushil Rinku — will both support his candidature by joining a event at PUDA ground, following the filing of Chaudhary's nomination.
Chief Minister — who, according to sources, may visit Kaypee's residence — will first accompany Chaudhary for filing the nomination and thereafter address Congress workers at the PUDA grounds. Both Kaypee and Rinku will be present at the event tomorrow.
Kaypee said, "I will stand by the Congress and back Chaudhary's candidature. I will support the party to win all 13 seats in the state. The larger aim is to ensure that Rahul Gandhi becomes the PM."
Kaypee, who had previously termed giving the ticket to Chaudhary as his political murder and threatened to contest as an Independent, also cancelled a meeting he was earlier supposed to hold today. He said, "When I am supporting the party, there is no question of holding any meeting."
While Rinku campaigned for months for his candidature from Jalandhar, sulking ever since Chaudhary was given the ticket, he also organised a meeting for Chaudhary on Saturday wherein he greeted the latter by touching his feet and both delivered speeches, without naming each other.
Chaudhary said, "There are no differences. All Congress leaders in Jalandhar are supporting our campaign. We are all together and both (Kaypee and Sushil Rinku) will be present tomorrow."
Valmiki leader defers joining cong
With MS Kaypee announcing to back Congress again, Valmiki leader Chandan Grewal has chosen to put off his joining. President of Safai Mazdoor Union, Chandan was welcomed into the party last week by CM, party president Sunil Jakhar and minister Sukhjinder Randhawa. But hours later, Chandan had maintained that he only met the CM but not joined the party. He is learnt to have demanded being taken as halqa incharge of Adampur, which party could not assure especially since Kaypee has chosen to return. Kaypee is the Congress constituency incharge since he had contested 2017 polls from here.