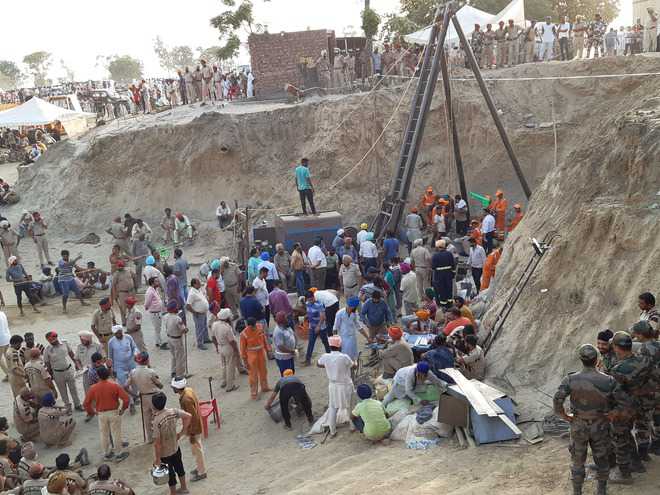 Parvesh Sharma
Tribune News Service
Sangrur, September 19
Despite repeated announcements by various government authorities regarding the release of required funds to pay for the expenses of operation launched to rescue a two-year-old at Bhagwanpura village, many are still waiting for their payment.
Two-year-old Fatehveer had fallen into an abandoned borewell on June 6 evening. Even after a 109-hour-long operation, the NDRF and Sangrur administration failed to rescue Fatehveer alive from the 150-ft borewell.
Sources said the administration had passed bills of Rs 10.50 lakh submitted by area residents for the use of cement pipes, light and sound systems, ambulance, JCB machines and other equipment during the operation. Till date, the government has released only Rs 5 lakh.
"Though it was a tragic incident and I do not want to make the pending payment an issue, the Punjab Government should have fulfilled its promise by releasing the amount immediately after the submission of bills," said a Sunam shopkeeper.
The Sunam SDM had on June 13 formed a committee, with Tehsildar Gurleen Kaur, Block Development and Panchayat Officer Jaswinder Singh Bagga, Sub-Divisional Officer (PWD) Sankesh Sharma and Patwari Devinderpal Singh as it members, to clear the bills.
"We received a huge number of bills, including many fake ones, from area residents. Our committee prepared details of only genuine bills," said Manjit Kaur, SDM, Sunam.
When contacted, DC Ghanshyam Thori said the government had immediately released Rs 5 lakh from the CM's Relief Fund after the end of the rescue operation. "The remaining Rs 5.50 lakh would be released in some days. The finalisation of bills took time and there is no problem from the government," said Thori.
Top Stories