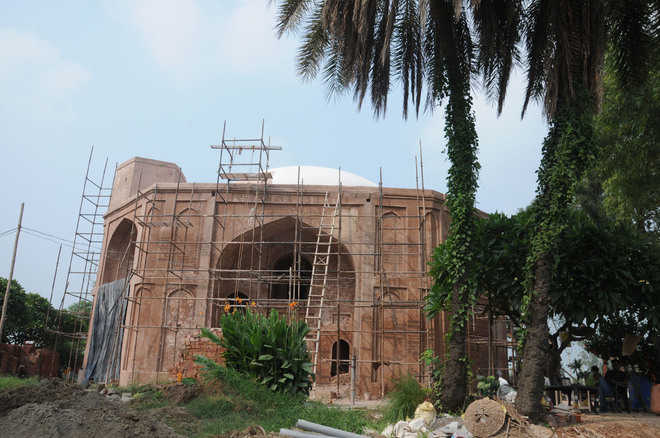 Deepkamal Kaur
Tribune News Service
Sultanpur Lodhi, September 19
Along gurdwaras and other public places being spruced up ahead of the 550th Parkash Purb of Guru Nanak Dev, a monument known as Hadera, dating back to the Mughal era, is also being renovated and set to become a major tourist attraction.
The Department of Tourism is readying the building with a coating of limestone and brick powder so as to maintain its old look. The double-storey building, which was in ruins till recently, is set to open to public from October 15.
Located at the back of Gurdwara Ber Sahib, its unique features include a tunnel in the centre which once connected it to the fort here and could have perhaps been used by kings to reach the place.
While some believe that it was a place of entertainment for the royal family, where dance performances and other royal functions were organised, others consider it a place of rest for the queens on their way to the royal gardens.
The town finds several mentions in the ancient book of "Ain-e-Akbari", had in those days many royal gardens and farms. The magnificent monument also has impressions in Urdu on its walls under the open arches. These are being kept intact.
Contractors for the tourism department working at the site said, "We have been told to keep the tunnel intact. There is a plan to open it up to some distance so that visitors can see it. We are working on it".
The Kapurthala DC said, "There are other tunnels in Sultanpur Lodhi which have been maintained. These are heritage structures. Of course, we will maintain this one too."
"It had three satellite mandis — a mandi of loha (iron) called Lohian, a mandi of dhudh (milk) called Didwindi and a mandi of tel (oil) called Talwandi," said Satnam Singh, an elderly.
Town was major trade centre
Sultanpur Lodhi dates back to the first century and was on the old trade route between Delhi and Lahore in the 14th century. It was also one of the major trade centres of north India
It consisted of 32 major markets with about 5,600 shops
There were many madrasas here. Two of the sons of Shah Jahan, Dara Shikoh and his younger brother Aurangzeb, also completed their studies in one of the madrasas in the town
.