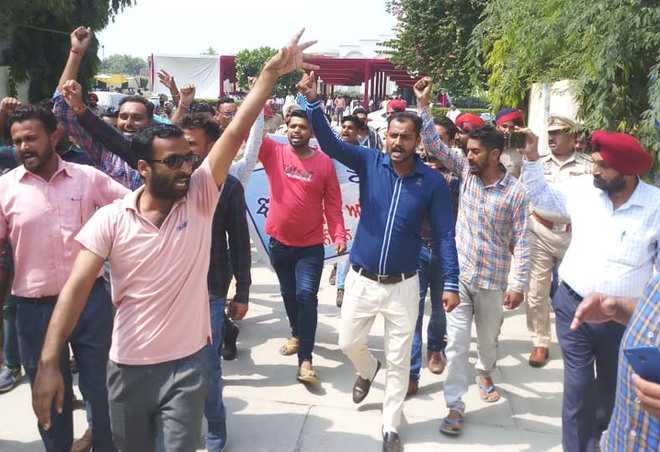 Our Correspondent
Fazilka, September 19
Activists of Berozgaar ETT-TET Pass Adhayapak Union, Fazilka, lodged a protest during the visit of Education Secretary Krishan Kumar to the town today.
Krishan Kumar had come to honour the teachers, who delivered 100 per cent result in senior secondary and elementary schools in the district and for their distinguished services.
As soon as Krishan Kumar entered the venue, a group of 35-40 unemployed teachers started raising slogans against the state government for not giving them jobs.
A large number of police personnel present at the function resorted to mild cane charge and chased the protesters out of the venue.
Union leaders Gagan Sidhu, Hardip Singh, Manjit Kaur, Parmjit Singh, Gurpreet Singh, Aman Kakkar and Mani Khubaya said the government had promised 5,000 jobs to ETT teachers, but it backtracked from its promise and changed the eligibility criteria.
Meanwhile, Krishan Kumar honoured 1,640 teachers and principals of government senior secondary and elementary schools, who delivered 100 per cent results and made the schools smart by raising funds on their own.
Top Stories