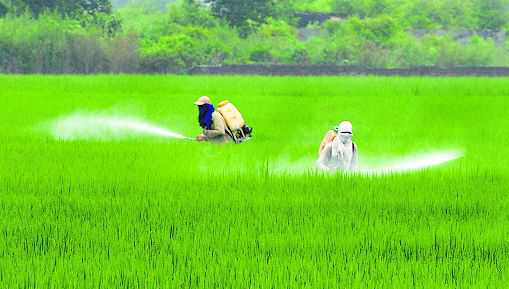 Kulwinder Sandhu
Tribune News Service
Moga, September 19
The state government is conducting registration for tagging of basmati crop in the state so as to provide pesticide-free quality rice to the domestic consumers and also boost its export to Europe and Middle East countries.
So far, the registration of basmati crop on 2 lakh hectares has been completed. This crop has been grown on 6.23 lakh hectares across the state. The registration of basmati growers on rest of the land would be completed by October 15.
Dr Kahan Singh Pannu, Secretary, Agriculture, who reviewed the development through video conferencing, last week, instructed field officials of the department to complete the task as soon as possible and then begin laboratory checking of the foodgrain.
The government has banned the sale of nine types of pesticides, insecticides and fungicides. An advisory was also issued to the farmers not to use the chemical formulations of acephate, carbendazim, thiamethoxam, triazofos, tricyclazole, buprofezin, carbofuron, propiconazole and thiophanate methyl on basmati because these chemicals were harmful for human health. They are already banned in most of the European countries.
As per details, acephate is an organophosphate insecticide; carbendazim broad-spectrum benzimidazole fungicide and a metabolite of benomyl; thiamethoxam systemic insecticide in the class of neonicotinoids and triazofos organophosphate pesticide used in acaricides, insecticides and nematicides. The chemical formulations of tricyclazole leave chemical traces of pesticides in custom milled rice.
Dr Pannu has further issued directions to the field staff to reach out to the basmati growers and motivate them for judicious use of fertilisers and other chemicals so as to improve its quality for exports.
The exporters had suffered huge losses during the past few years as many containers containing basmati varieties of rice were rejected by European nations, Saudi Arabia and other Middle-East countries after traces of the banned pesticides were found in them.
The European countries also found basmati rice imported from India with traces of cancer causing fungicide tricyclazole and some pesticides mentioned above.
Saudi Arabia also follows the quality norms of European countries. The Saudi Food and Drug Administration (SFDA) also decided to follow stringent norms for quality checks of basmati coming from India. Some consignments of basmati were rejected after testing positive for residues of pesticides in the past few years.
Dr Jaswinder Singh Brar, Plant Protection Officer, said the government had asked the field officials to check quality of basmati grain in the laboratories and if the residue of banned pesticides, insecticides and fungicides was found in any basmati field then explanation would also be sought from the block agriculture officials concerned. "Legal action may be taken against the dealers who sold these pesticides," he added.
The Agriculture Department has already asked the pesticide dealers not to sell the banned chemicals to basmati growers, else legal action would be initiated against them.