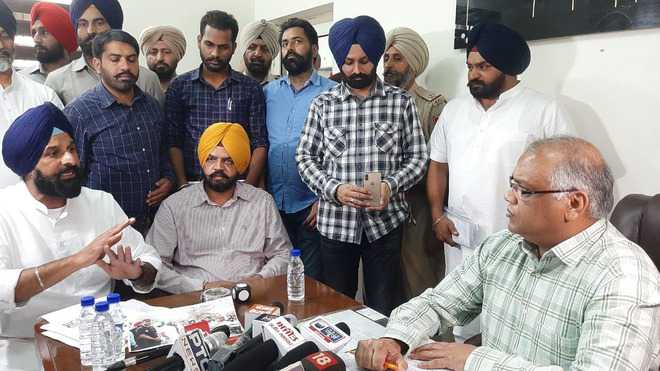 Tribune News Service
Ludhiana, October 18
Accusing the police of registering false cases against Akali workers allegedly on the instructions of the Congress government, senior SAD leaders, including Daljeet Singh Cheema, Bikram Singh Majithia and SAD candidate Manpreet Singh Ayali, gheraoed the Mullanpur Dakha police station. The SAD leaders and workers also raised slogans against the police for allegedly harassing party workers.
They complained to SSP (Rural) Sandeep Goel about registration of "false" cases against party workers. Police teams from seven districts are conducting raids at the houses of Akali workers after registering "false" cases related to mobile theft, stubble-burning, etc., they alleged.
Bikram Singh Majithia said he cited 18 specific cases of vendetta politics before the SSP and asked him to tell why raids were being conducted against SAD workers for the past one week. "All this is happening under the SSP's watch. We will not allow this," he said.
Majithia told the SSP that a "listed gangster accompanied two Congress ministers to welcome the Chief Minister during his second roadshow in Dakha." "The police were also a mute spectator when Cabinet Minister Bharat Bhushan Ashu attacked a Sikh man and disrespected his articles of faith. But no action was taken against him," Majithia claimed.
Daljeet Singh Cheema said, "One such false case has also been registered against 60-year-old Kamaljit Singh Guddu of Sahouli village for snatching mobile phone from a labourer. The case was registered against him because he has been campaigning for the SAD."
Ayali said, "If such raids are not stopped, I and my family will offer arrest on Saturday morning."
Meanwhile, Ludhiana (Rural) Senior Superintendent of Police (SSP) Sandeep Goel claimed, "We have not detained any Akali Dal worker illegally. We are committed to ensure free and fair elections in Dakha Assembly segment."
18 vendetta cases: Majithia
Former minister and SAD MLA Bikram Singh Majithia said," I have pointed out 18 cases of vendetta politics before the SSP. Raids are being conducted against SAD workers for the past one week. We will not allow this."
Top Stories