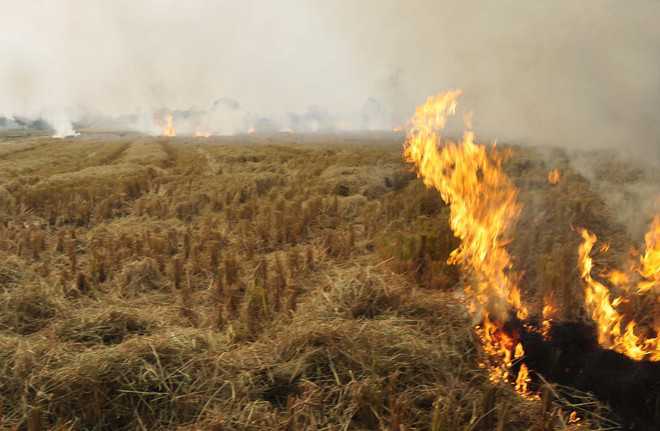 Parvesh Sharma
Tribune News Service
Sangrur, October 18
A day after the Punjab Government decided to depute nodal officers in 8,000 paddy-growing villages to prevent stubble-burning, farmers, led by the BKU Ugrahan, today started forming special squads to prevent the entry of officers in villages.
Village-level squads have started erecting tents in villages. Armed with sticks, 20-25 members will be on duty round the clock to stop the officers from checking stubble burning.
"The Punjab Government cannot stop farmers from burning stubble even by deputing 8 lakh employees across Punjab. Village-level squads will be formed in all villages to prevent action against stubble burning. The government must understand that farmers want an alternative and it should help them," said Sukhdev Singh Kokri Kalan, general secretary of the union.
Infuriated at the announcement of the Punjab Government that if any farmer burned paddy residue in the fields, the nodal officers would ensure red entry in the revenue records with the help of the Patwaris concerned, farmers have announced that they would oppose such action.
"We are already under huge debts and how we could take further loans to manage stubble without burning. If the Punjab Government is really serious about protecting the environment, it must announce special bonus for us to prevent the burning of stubble," said Dharminder Pashore, Lehragagga block president of BKU Ugrahan while sitting in a tent erected at Sangatpura village.
Pashore said 20-25 farmers would be on duty round the clock in each village to prevent the entry of officers. Villagers would make arrangements for food and other necessary items for these squads.
The Punjab Government has also constituted district-level special committees, including Deputy Commissioners (Development), Chief Agriculture Officers (CAO) and Environment Engineers of Punjab Pollution Control Board, to prevent stubble burning.
Sangrur CAO Jaswinderpal Singh Grewal said their teams were conducting field inspections and would take action if any farmer tried to burn stubble.
Top Stories