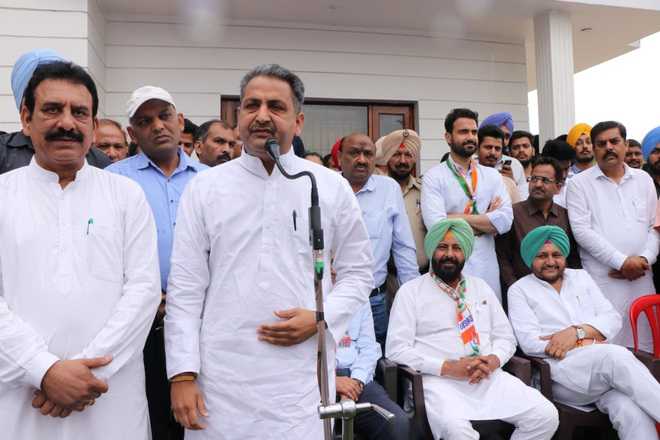 Tribune News Service
Sangrur, April 17
Amid reports of his differences with Sangrur Congress candidate for General Election Kewal Singh Dhillon, Punjab Cabinet minister Vijay Inder Singla today organised a meeting of his supporters at his Sangrur residence and announced to support Dhillon.
But some Congress leaders in the presence of both Dhillon and Singla alleged that SAD leaders were running the campaign of Dhillon, who assured proper respect to all Congress leaders. Many leaders were also heard complaining that Dhillon had started his campaign three days back, but they did not get any information.
"During the road show of Dhillon on April 15, SAD leaders called us to participate in it. Almost all senior Congress leaders felt bad because they wanted to participate, but due to lack of any invitation directly from Dhillon, they did not participate," said Mahesh Kumar Meshi, former president of the Sangrur Nagar Council during the meeting.
Dhillon and Singla both heard the grievances of leaders patiently. Singla said there was no need for Dhillon to campaign in Sangrur as he would look after the campaign and ensure that Dhillon got maximum votes.
"I do not have any difference with Dhillon and could not participate in his road show because I was in Kathua to make arrangements for Chief Minister Capt Amarinder Singh's rally. I along with my all supporters will work hard for the victory of Dhillon from Sangrur," said Singla.
During meeting, supporters of Singla also raised slogan in his favour.
"I will take all along with me as it's the election of all Congress leaders and not mine alone. I have heard the complaints and asked the leaders concerned to redress them immediately," said Dhillon.
About the announcement of Jaswinder Dhiman, who has been expressing his anger over the allotment of Sangrur ticket to Dhilon, he said he had talked to Amargarh Congress MLA Surjit Dhiman, father of Jaswinder, and Surjit had assured him of support.
Top Stories