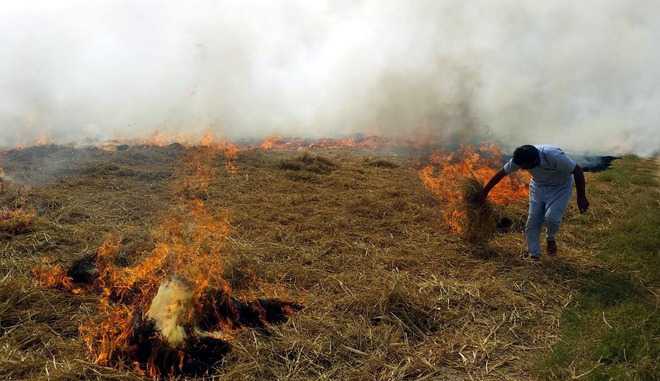 Aman Sood
Tribune News Service
Patiala, December 26
Despite no stubble-burning in Punjab for the past almost a month, the state's air quality index (AQI) is a "moderate" 166, with Mandi Gobindgarh and Patiala in the poor-quality bracket.
As per Punjab Pollution Control Board (PPCB) figures, the AQI for various cities is: Amritsar 143, Ludhiana 122, Mandi Gobindgarh 238, Patiala 201, Jalandhar 109 and Khanna 181.
While 0-50 microgram per cubic metre (µg/m³) RSPM (respirable suspended particulate matter) is considered good, 51-100 is satisfactory, 101-200 moderate, 201-300 poor, 301-400 very poor and 401-500 severe. The average air quality in the first six months of this year was recorded between moderate and poor with sometimes reaching "very poor" category due to dust storms and other factors.
According to data from the Central Pollution Control Board, Delhi's overall AQI is 446. Chief Environmental Engineer, PPCB, Krunesh Garg, claimed that Delhi usually blamed Punjab for the high air pollution in their state, giving paddy stubble burning as its cause. "Now, Delhi does not have an alibi to blame it on the neighbouring states," Garg said, adding that air quality in Punjab would improve after wind velocity increased. "We are not comparing Punjab with Delhi, but just refuting the allegations that we face every year post paddy harvesting season," he added.
"Usually, the reading is above 100 RSPM on most days, but goes on to alarming levels when farmers resort to stubble-burning or when we have dust storms. The other major reason for high pollutants in the air is the declining forest cover in the state," PPCB officials claim.
"During winters, the burning of wood as fuel for cooking and crackers also add to pollution in addition to low air velocity, while in summer months, dust storms are the major reason," they claimed.
Another senior PPCB official said industrial and vehicular pollution and smoke emanating from brick kilns usually continued throughout the year and made matters worse.
Despite a moderate reading, Punjab features among the top four states with maximum cities that have failed to meet the national air quality standards in India. The report in this regard submitted by Mahesh Sharma, Minister of State for Environment, on April 6 in the Lok Sabha states that Punjab features third on the list after Maharashtra with 17 cities topping the chart and Uttar Pradesh being a close second with 15 cities on that list. In Punjab, eight cities — Khanna, Ludhiana, Dera Bassi, Gobindgarh, Jalandhar, Naya Nangal, Pathankot and Patiala — have been labelled the worst when it comes to air quality.