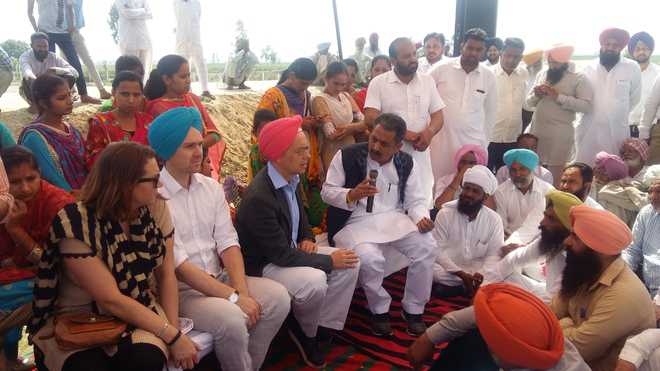 Tribune News Service
Sangrur, March 12
Norway's Ambassador to India Nils Ragnar Kamsvag today visited two Sangrur villages along with local Congress MLA Vijay Inder Singla and discussed farmers' problems in detail. He interacted with residents of Panwa and Bhattiwal villages and promised to explore the investment possibilities in the state.
"Punjab farmers are very hard-working. With proper guidance, they can excel within a short span. We will see what we can do. Today, I have interacted with the villagers to know their problems and needs," said Kamsvag in Panwan village of the district.
During the interaction, farmers discussed their problems like rising number of suicides, over-exploitation of groundwater for farming, overuse of pesticides and their ill effects, air pollution caused by stubble burning and shortage of money to purchase new equipment.
"Punjab farmers have brought Green Revolution but they have also paid a huge price for it as the excessive use of pesticides have badly affected the health of residents," said Gurmail Singh, a farmer from Panwan village.
Congress MLA Vijay Inder Singla, who acted as a translator for the Ambassador, said the main purpose of the visit of the official was to give him detailed information about the problems of farmers.
"He took interest in the discussions and hopefully, we will get the required help from him," Singla said.