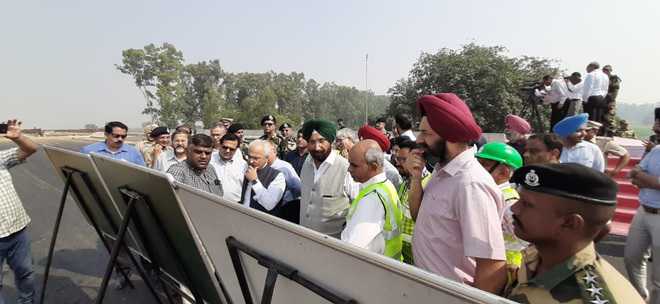 Ravi Dhaliwal
Tribune News Service
Dera Baba Nanak, October 14
Putting to rest speculation whether the Kartarpur corridor project will be completed before the October 31 deadline, the consensus that emerged at a high-level meeting held between various stakeholders at the zero-line today was that the venture might not see the light of day by then and that it will be an incomplete corridor that will be thrown open to the public with makeshift facilities.
The corridor comprises of two parts, the road and the ICP. The 4.6-km stretch of road being built by a Ludhiana-based firm contracted by the NHAI is almost complete. However, what is rankling officials is the construction of the multi-storyed ICP. The Land Ports Authority of India, tasked with its construction, has contracted Mumbai-based Shapoorji Pallonji Group for the job.
Despite the fact that 2,000 labourers are working in three shifts, the ICP is just halfway mark. The project has been delayed after land acquisition took a long time. Later, the supply of sand and gravel was disrupted, bringing construction to a halt. The state government was represented by Cabinet minister Sukhjinder Singh Randhawa, CM's Chief Principal Secretary and Special Principal Secretary, Suresh Kumar and Gurkeerat Kirpal Singh, Secretary (PWD) Hussan Lal and DGP Dinkar Gupta.
The Union Government was represented by Home Secretary Ajay Bhalla, LPAI Chairman and Director Govind Mohan and Raman Sharma respectively, Member (planning and development) Akhil Saxena and vice president of Ceigall India Ltd Jeetendra Singh.
Sources said Govind Mohan and Bhalla, after visiting the site, admitted that going by the tardy pace of work the corridor could not meet its deadline.