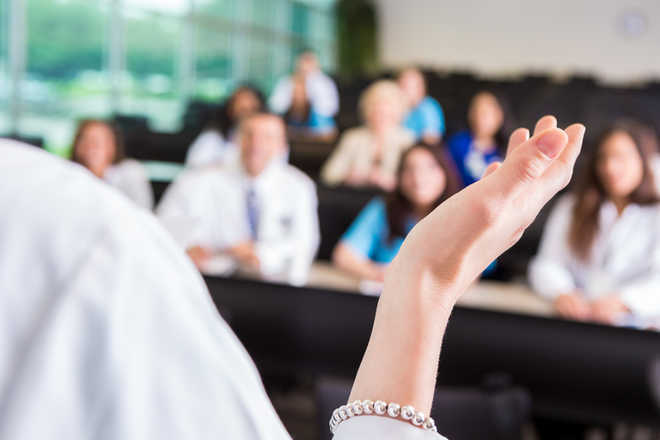 Varinder Singh
Tribune News Service
Jalandhar, January 13
A dispiriting combination of much lesser pay and perks than government sector and age bar of 70 years is leading to an exodus of senior doctors of all Punjab-based private medical colleges, private health institutions and hospitals.
These colleges are facing an acute teaching faculty shortage ranging between 30 and 40 per cent.
The state's functioning five private medical colleges - Punjab Institute of Medical Sciences (PIMS), Jalandhar; Adesh Medical College and Hospital, Bathinda; Sri Guru Ram Dass Medical College, Amritsar; Christian Medical College and Dayanand Medical College, Ludhiana; were learnt to be short of at least 100 members of teaching faculty.
The constant and lingering shortage of teaching faculty was casting its shadow on the ideal Medical Council of India (MCI) stipulated student-teacher ratio of three teachers (one professor, one associate professor and one assistant professor) after a batch of every 150 students in case of some of these private colleges. The Damocles' sword in shape of MCI de-recognition often keeps hanging over the management of some of these institutions due the shortage of teaching faculty.
The major factor which was drifting senior faculty of doctor-teachers was a huge gap of salary and other perks between those who were employed in the government sector and the ones who were teaching in private colleges. For an example if a veteran teacher or faculty member of a private medical college was getting a monthly salary of Rs 1.5 lakh, his or her counterparts working in government medical colleges were drawing an average pay packet of Rs 2.5 lakh.
Similarly, the maximum age bar of 70 years for teaching in private and other medical colleges was also discouraging ageing faculty to continue with teaching. They were instead preferring to either to shift to some private hospitals or were shifting to their own practice.
The shortage of faculty in private colleges was very well in the knowledge of the government authorities. To retain the charm of service for veteran faculty members of the private medical colleges, the vetern doctors suggested, the age bar could at least be raised to 72 years if not 75. They give example of England and certain other European countries where there was no age bar for teaching doctors.
Dr. Mandip Singh Sethi, Associate Professor (Medicine) at PIMS, however, suggested that the maximum age limit for teaching faculty should be fixed at 75 years if not at 77 years. "The same England pattern could be applied here in case a teaching doctor is physically and mentally fit.I think it will stall the exodus of veteran doctors to private practice or towards private hospitals."
"Moreover, the drift towards private practice could also be arrested by removal of pay disparity and with better pay packets. It will not only improve the student-teacher ratio in private colleges but, would also lead to fulfillment of the stipulated criteria in respect to strength of teaching faculty," he said when contacted by The Tribune.
Dr O.P. Aggrawal of Mullana College, Ambala, said the faculty strength stipulation has got diluted after year 2004 till when 7-8 strong teaching faculty was required for a batch or strength of 150 odd students. "It is also a fact that there is no binding on the managements of private medical colleges to retain veteran doctors as faculty members," he said.
Punjab Health Minister Brahm Mohindra assured that the medical faculty would be strengthened in private as well as government medical colleges of Punjab.
The government medical colleges based in Amritsar and Patiala were also facing an acute shortage of faculty. More than 50 per cent of a total of 628 faculty positions in these two colleges were lying vacant.