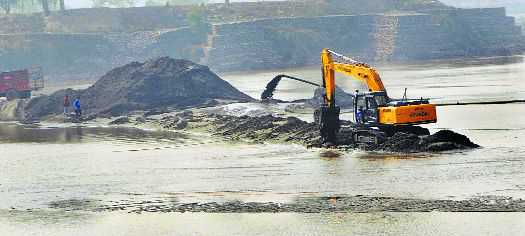 Tribune News Service
Chandigarh, June 17
Just over a fortnight after the issuance of notice for auctioning mines, the Punjab and Haryana High Court today issued notice of motion to the state government on a petition filed in public interest for quashing the same on the ground of being illegal and against law laid down by the HC and the Supreme Court.
The notice by the vacation Bench of Justice Anupinder Singh Grewal and Justice Harnaresh Singh Gill came after petitioner-advocate Gagneshwar Singh Walia submitted that the auction was being carried out without conducting replenishment study of the riverbeds regarding mineral resources available after sustained mining in the same.
Senior advocate Gurminder Singh and RPS Bara added on petitioner's behalf that the process was also being carried out without preparing mandatory district survey report and without onsite demarcation of quarries for the extraction of minor minerals "leaving the entire mineral wealth in the hands of the contractors to do as they please".
Elaborating, they submitted that even the extractable quantity of minor minerals was mentioned, while specifying the quarries in the auction notice. It indicated that the quarries had been named without preparing the district survey report and without conducting the replenishment study.
They added that the process was against the established principles of environmental protection and would lead to huge environmental degradation and plundering of natural resources in the form of minor minerals. It would also have "huge adverse impact" on environment.
The Bench was also told that the auction notice dated May 30 was in contravention of the Sustainable Sand Mining Management Guidelines, 2016, issued by the Ministry of Environment and Forest issued under the Environment Protection Act, 1986.
After going through the documents and preliminary hearing in the matter, the Bench fixed the case for July 1, the scheduled date for auction of minor minerals. The Bench also called for an affidavit on district survey report and replenishment study, if any, conducted.
Top News
Action taken under relevant Section of Unlawful Activities (...
Says wants it to commit constructively to establish facts
Blinken says it is 'important for India to work with the Can...
Adhir Ranjan Chowdhury, the Congress leader in Lok Sabha, sk...
Current data from student visa processing agencies suggest t...