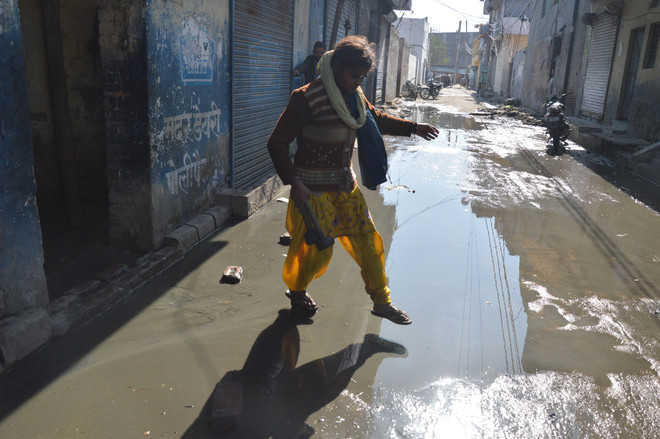 Kuljit Bains
Much as the ground water crisis caused by agriculture in Punjab is discussed and well documented, there is another crisis no less serious, and perhaps with graver consequences in the short run, brewing in the state. Poisoning of our waters in rivers, in ground, and on the surface through household effluents released untreated. Under immediate threat is the health of the states residents in the present day as well as that of future generations through chemical residues permeating into the ground.
The Tribune reported last week a shocking practice of a village (Ramuwala Daliawali, Faridkot) having bored a 260-foot deep hole in the ground and injecting sewage into it. Their simple explanation is there is no other option, as the village pond is also not capable of handling the wastewater. Earlier there have been reports of even some industries doing the same with their effluents surreptitiously on their premises. The consequences over the long term cannot be hard to imagine. And there is no saying where all this practice may be in use.
The reason behind this is misgovernance and lack of foresight on the part of the government, and irresponsibility combined with greed of the public. Over the past decade most villages have been connected to piped water supply under various projects. It was a necessity, and therefore not something a government would delay for the sake of mere planning, especially when money came from international agencies. That was the first step of the recipe for disaster.
The state was about to start pumping out water in untold quantities, to be ultimately drained into a system that was designed decades ago to handle water coming from mere hand-pumps. Essentially, a system meant to handle a trickle, has been overwhelmed by a flood. Next is the ultimate destination of this water, which in most cases was the village pond. But not only village ponds have been encroached upon or are ill-maintained, they also do not have the capacity to contain even a fraction of the water being generated. Thus it is a double jeopardy of there being no drainage to carry the water, as well as no managed end disposal. The result is streets and ponds overflowing with sewage.
While this is for the infrastructure designed to create havoc, an aspect that is promoting irresponsible behavior on the part of village residents is the tariff system. They are required to pay a very small fixed amount for the water, with no bar on how much they consume. Having paid the amount, most believe it is their right to take as much as they want. The result is reckless use, whether to wash courtyards or clothes, or simply not turning off a tap. The need is to implement a metered charge, even if the amount only be nominal. That will encourage responsibility.
While several villages have reported higher incidence of disease, there is a parallel excess happening in urban areas, which is destroying our rivers. The huge amounts of sewage generated in towns is being released untreated into water channels and rivers. There are 87 sewage treatment plants (STPs) in 67 cities and towns, but only 15 of them are releasing acceptably clean water, according to official data. As many as 99 towns are listed as having no STP.
But there is a fundamental deficiency in even the ambition of the proposals. And that is the assumption that only urban areas need STPs. Villages need them as much. Wherever there is public supply of water, there has to be a treatment plant, size being proportional to the amount of water drained. As of today there would be no data on the quantities involved, or any study to correlate the sewage situation to cases of illness.
Even if the government begins in the right earnest today, it will be not be before at least a decade that villages may get the drains and STPs required. This is a project that cannot be launched a day too soon. The present generation is leaving a huge financial debt on the next; but the debt of health is one that even loans will not be able to repay.
Top Stories