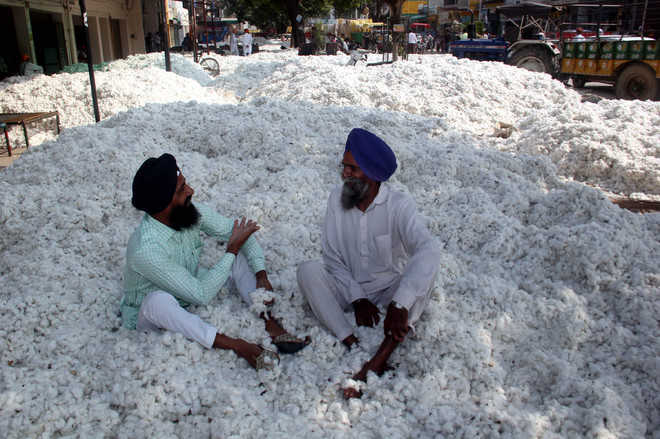 Perneet Singh
Tribune News Service
Bathinda, October 9
Cotton farmers are grappling to get remunerative prices of their produce, as private buyers are treading cautiously in view of the fiscal slowdown that has hit the textile industry. Besides, high moisture content is also adding to their woes since the Cotton Corporation of India (CCI) is not making any purchase.
Talking to The Tribune, cotton trader Ashok Kapur attributed the declining trend in cotton prices to the fact that the mills had not entered the market in a big way. "The mills are only making hand-to-mouth purchase, as the yarn market is sluggish right now and they are unable to dispose of their inventory. The low prices of cotton should have prompted them to make more purchase, but they slowdown has played a spoilsport," he said.
He felt that the pressure of cotton arrivals is also contributing to low prices, as the arrivals in the region's markets are high as compared to the last year.
Satish Bansal, an arhitya at local grain market, said the prices were hovering between Rs 4,700 to Rs 5,200 per quintal, which was less than the MSP of Rs 5,350 per quintal. He blamed high moisture content for low cotton prices. He said the produce arriving in the market these days had 15 to 16 per cent moisture. He said only private buyers were making purchases and the CCI was staying away. He said the market committee had also allotted a yard to the CCI for making the purchase, but no farmer is approaching the agency primarily due to high moisture content.
Sources say the CCI has made some purchase at Killianwali market. The CCI guidelines don't allow the agency to procure cotton having more than 12% moisture content. Besides, the CCI's condition of making direct purchase from the farmers may also turn out to be a roadblock.
Sukhdeep Singh, a farmer from Kotfatta village, said his cotton fetched Rs 4,800 per quintal, which was disappointing. "We were better off last year when we sold our cotton for Rs 5,500 per quintal. Our returns would be low this year, considering the fact that we had to shell out Rs 700 per quintal as labour charges for plucking cotton," he said. BKU Ekta Ugraha leader Shangara Singh Mann said no government agency was entering the market, leaving farmers at the mercy of private buyers.
Arhtiyas decry CCI move
Muktsar: The Federation of Arhtiya Association on Wednesday held a meeting of agents from Muktsar, Bathinda, Faridkot, Muktsar and Fazilka. They decided to meet the CM over the CCI's decision to buy raw cotton direct from farmers in ginning factories. Vijay Kalra, president of the association, said they would seek CM's personal intervention. TNS
Expedite purchase: BKU
Fazilka: Activists of the BKU (Lakhowal) led by their state president Ajmer Singh Lakhowal staged a protest outside the DC office here on Wednesday. Lakhowal sought speeding up of the paddy and cotton procurement as farmers had been facing difficulties due to tardy purchase. The farmers have demanded a compensation of Rs 40,000 per acre for the loss of cotton crop due to hailstorm a few days ago. OC