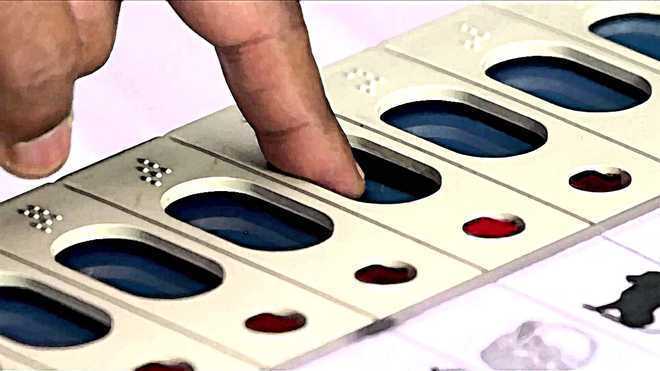 Tribune News Service
Chandigarh, March 10
Over 1.74 crore voters, 80.51 lakh of them women, will cast their votes in the May 12 election (sixth phase) for the 10 Lok Sabha seats in Haryana.
Elections to 13 parliamentary constituencies in Punjab and four in Himachal Pradesh will be held in the seventh and the final phase on May 19. The results will be declared on May 23.
Haryana's Chief Electoral Officer (CEO) Rajiv Ranjan said photo electoral rolls prepared on the basis of January 1, 2019, as the qualifying date will be used. The state will have 19,425 polling stations, including 13,931 in the rural areas.
In the 2014 Lok Sabha polls, the BJP had won seven parliamentary seats, the INLD two and the Congress one seat.
Chief Electoral Officer, Punjab, Dr S Karuna Raju said a total of 2.03 crore voters can cast their ballot in the state. As many as 96.2 lakh, out of the total, are female voters. Of the total 9.48 lakh youngsters in the age group of 18-19, as many as 2.56 lakh have registered themselves with the election office.
Punjab has only 393 NRI voters.The state will have a total of 23,213 polling stations at 14,460 locations. As many as 16,394 polling stations are in the rural areas.
In the 2014 election, the Congress and AAP won four seats each, while the BJP bagged two and coalition partner SAD three seats.
In Himachal, more than 51.54 lakh voters are eligible to exercise their franchise to elect four Lok Sabha members. There has been an increase of more than 4.5 lakh voters during the past five years since 2014 polls.
A total of 7,723 polling booths will be set up, with the maximum 2,079 for Mandi Lok Sabha seat.
The BJP had won all four seats in 2014. Elections to the seven Lok Sabha seats in Delhi will be held on May 12, the sixth stage of the seven-phase poll exercise. The seven seats were won by the BJP in the last polls. The Aam Aadmi Party has already announced its candidates for six seats.
Elections to all five Uttarakhand seats will be held in the first phase on April 11.
Top Stories