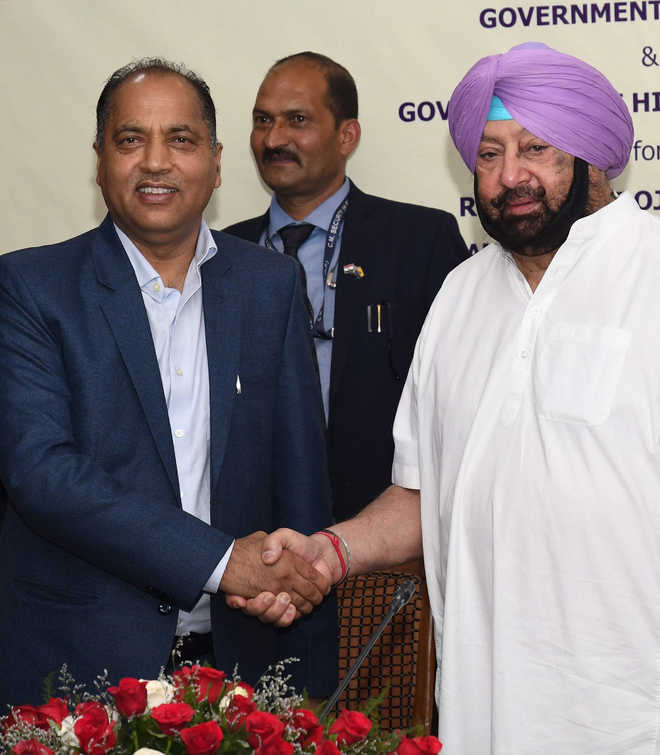 Tribune News Service
Chandigarh, September 28
The governments of Punjab and Himachal Pradesh today signed a memorandum of understanding (MoU) to set up a ropeway between Anandpur Sahib and Naina Devi.
To be established in the public private partnership (PPP) mode, the ropeway will be beneficial to lakhs of devotees visiting these religious sites. The MoU was signed by the Tourism Secretaries of both states in the presence of Chief Ministers Capt Amarinder Singh and Jai Ram Thakur.
Thakur said the then Himachal government had cancelled the project in 2014, but he initiated its revival after taking over and Capt Amarinder supported it. He said 25 lakh tourists visited Naina Devi every year, including 80 per cent from Punjab.
Punjab Tourism and Cultural Affairs Minister Navjot Singh Sidhu, Punjab Chief Secretary Karan Avtar Singh, Chief Principal Secretary Suresh Kumar and Himachal Pradesh Chief Secretary Vineet Chawdhry were among those present.
The Punjab Tourism Department has acquired 108 kanals and 13 marlas for setting up the Lower Terminal Point and right of way within the state's territory. The project will be executed through a special purpose vehicle (SPV). It is estimated to cost Rs 250 crore and cover 3.5 km. The three terminal points will be at Anandpur Sahib, Toba and Naina Devi.
The total paid-up equity for the SPV will be Rs 1 crore, with Rs 50 lakh each the share of the two states. As per the MoU, both states will have an equal share in the revenue, with a concession period of 40 years. Capt Amarinder said the company to carry forward the work will be formed soon and it will have 10 directors, five each from the two states.
In the initial seven years, no concession fee will be paid by the concessionaire and a time frame of three years would be given to set up the project. This has been done to ensure that the tariff remains affordable for tourists and pilgrims.
Top News
Lhonak lake breaches banks after cloudburst, triggering mass...
About unifying the Armed Forces: A theatre command entails h...
Third party leader to be arrested | BJP says Kejriwal 'real ...